Found in 2005 during a separate undisclosed investigation, discovering the pieces in a sports bag belonging to two Serbs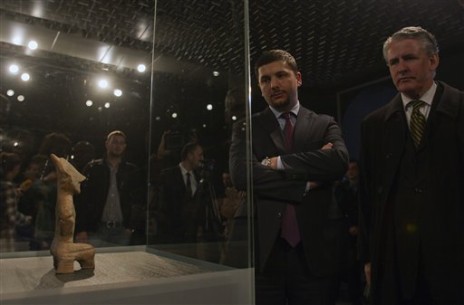 By Nebi Qena, Associated Press
Seven artifacts dating as far back as 4,000 B.C. have been returned to Kosova after German police stumbled on them in an unrelated raid.
The artifacts date to the Neolithic period and are believed to belong to the Vinca, a prehistoric culture that traces back to 5,500 B.C. in southern Europe. Police in central Germany found them in 2005 during a separate undisclosed investigation, discovering the pieces in a sports bag belonging to two Serbs.
It is not clear how they were brought out of the country, but authorities believe they were meant for sale to private collectors.
"Most likely they had been illegally transferred to Germany," Memli Krasniqi told The Associated Press.
There was no registry for the items and it took investigators years to authenticate them and confirm they belong to Kosova.
"It has been a long period of expertise and analysis that we've done together with German authorities to conclude that they have been smuggled from Kosova," Krasniqi said.
On Friday, they were placed in Kosova's Archeological Museum in the capital Prishtina alongside the museum's sole artifact, a similar terracotta figurine known as Goddess on the Throne, returned from Serbia through the mediation of the United Nations.
Kosova's ethnic Albanians fought a separatist war against Serbia in 1998-99 and Serbia relocated some 1,200 artifacts from Kosova's museum to Belgrade during the 78-day NATO bombing campaign that eventually ended the conflict.
Serbia rejects Kosova's 2008 declaration of independence and ownership of the artifacts is still hotly debated.
Eckhard Laufer, the German police officer who found the seven artifacts, would not give details on the original investigation saying only it "had nothing to with the traffic of cultural heritage." The investigation into the provenance of the artifacts began in 2007, he said.