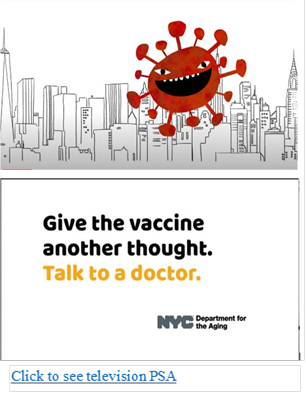 Animated character personifies the virus and will be featured in multi-media campaign to reach the 20% of older New Yorkers who remain unvaccinated.
NEW YORK, NY — Starting this week, New Yorkers will be introduced to "Rampage," an animated character introduced by the New York City Department for the Aging (DFTA) to remind older adults about the threat of the coronavirus and the importance of getting vaccinated.
The animated character is part of a public service announcement (PSA) campaign that will be featured on television, radio, print, online and outdoor media starting tomorrow, December 2nd. In his television debut, Rampage, a boastful coronavirus enters an older New Yorker's body and quickly begins reproducing. He tells older New Yorkers that they are vulnerable and easy to get. Rampage also tells viewers that doctors are his biggest enemies because they know his weaknesses. The PSA ends with "Give the vaccine another thought. Talk to a doctor."
"To finally put an end to the pandemic, it is important to reach all New Yorkers who may be hesitant about the COVID-19 vaccines, especially older adults who remain the population most vulnerable to the virus," said Commissioner Lorraine Cortés-Vázquez. ""Rampage's" goal is to do just that. The character may seem benign, but it's a monster and deadly – just like COVID-19. This campaign will deliver a critical message: speak with a doctor, ask your questions, raise your concerns, get all the facts you need so you can feel confident about getting vaccinated. The goal is to engage older adults rather than 'talk at' them."
While it has been 10 months since COVID-19 vaccines were made publicly available, about 20% of older New Yorkers remain unvaccinated. Older adults continue to be the most vulnerable population to COVID-19 and other coronavirus variants. Prior to creating the PSAs, the campaign's creative team spoke to older New Yorkers. Some of them expressed feeling overwhelmed by vaccine messaging, while others said they did not have enough information about the vaccine's interaction with their long-term illnesses like diabetes and heart disease. The campaign's PSAs were crafted to empower older New Yorkers to speak to their doctors and get the information they need to make a confident decision.
The "Stop Rampage" PSA campaign will be prominently featured in neighborhoods with low vaccination rates and will be translated to Spanish and Yiddish. In addition to television, it will be featured in bus shelters, local newspapers, out-of-home media placement venues, and digital platforms like Google and Facebook to reach as many older New Yorkers as possible. This campaign is the latest effort undertaken by the City to reach older adults. It follows other continuous vaccination outreach efforts for older New Yorkers, which have included over 12,300 free rides to vaccination sites, and over 46,000 vaccine doses administered through the City's in-home vaccination program. The City of New York has also offered incentives such as $100 debit cards and tickets to city attractions.
Older adults can receive information and read answers to frequently asked questions about vaccines at nyc.gov/aging/COVID19Vaccine.