By Lidija Bashota
ZAGREB, CROATIA
As part of the ongoing manifestation, The Days of Kosova in Croatia, Thursday evening, prior to the 15th. Anniversary of the independence of Kosova February 17th, the Union of Albanians in The Republic of Croatia and The Association of Albanians in The City of Zagreb and County, with the support of The Embassy of The Republic of Kosova, paid tribute and honor to the life and work of Professor Zef Mirdita, a great man.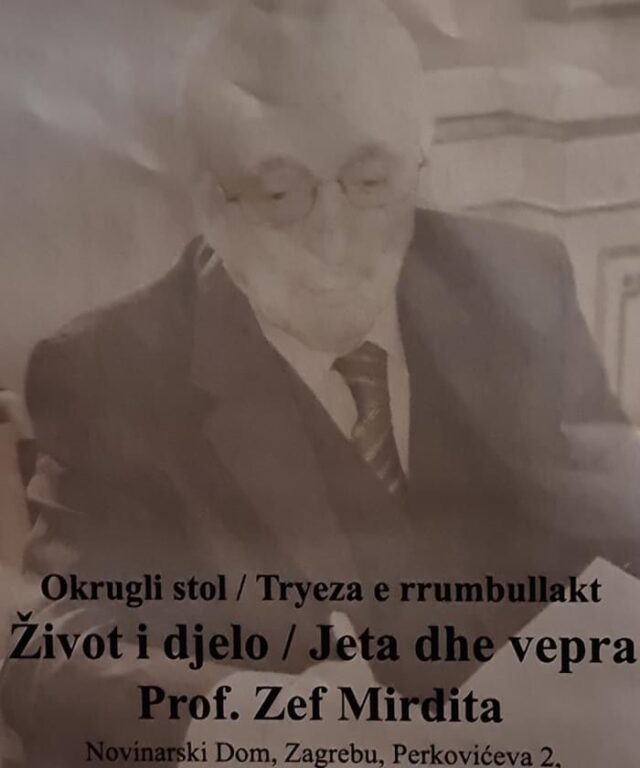 The late Professor Mirdita was an expert in Classical History and spent enormous efforts in the research of Dardania and Dardanians in the region of present day Kosova – this was his life's work. Professor Mirdita was a member of The Croatian Institute of History. Present at this round table discussion were many of his pupils and students who later became his colleagues, including pupils and students from his youth in Kosova and Croatian students.
The Ambassador of The Republic of Kosova, Professor Martin Berishaj (who was his pupil in Kosova) placed great emphasis on Professor Mirdita's research and Thesis on Dardania.
It was touching to hear his colleagues talk about him with much respect for his knowledge/expertise and also of their love for this wonderfully good-natured man, who at moments was quite humorous. Due to family ties, I myself had the honor of knowing Professor Mirdita and learning from him and with great delight called him; Baca (Uncle) Zef. I am sure that all adult Kosovars living in Croatia, know of this great man, his efforts, works and wonderful human nature.
Earlier that afternoon, The Embassy of The Republic of Kosova opened its doors and gave special mentions to many Kosovars who deserved recognition, both in The Republic of Kosova and in the Republic of Croatia.