By Anila Nicklos
He walks humbly towards the group of people celebrating a friend's birthday and gently says hello whilst another friend introduces him to everyone. That is how I met this young gentleman who with his peaceful and amicable approach, attracts people's attention and gains their respect. He is Ermal Hadribeaj, the professional boxer who lives and trains in Miami and who has won all ten matches in which he has participated so far.
A couple of weeks later, I had the opportunity to enjoy Ermal's fighting as I was invited to his 10th match by a few of his friends. Ermal Hadribeaj, also known as "The Sniper", the main card of the evening, took the ring by storm. He was rock solid and very accurate.
But today, I will focus on Ermal "The Sniper" Hadribeaj as the idol and the role model of Albanians around the world who through dedication, determination, discipline, tenacity, vision and sacrifices is making his childhood dreams come true. For all of us, Albanians, his personal image and success become the token of diplomacy for our image anywhere we live and contribute.
Ermal, who was born and grew up in Albania, began his sports career at a young age. At 7 years old he began playing soccer together with his brother, Adrian. He remembers playing soccer with great affection. He was a great player, with notable skills and talents and someone who dreamed of being an excellent soccer player. After a while, becoming a soccer player was put on the side. Soccer lessons and other monthly expenses could no longer be sustained. After 10 years of hard work, as a defense position soccer player, Ermal withdrew from this sport.
However, Ermal never sat still.
While in middle school he enjoyed a sports dance class and he learned to dance. Later on, during high school years he also joined gymnastics. As if those passions were not significant enough both physically and commitment wise, Ermal also joined the jumping sport and learned to jump from building to building.
Early on, during our meeting it became apparent that Ermal has no fear and no boundaries relating to sports. He took karate, bicycling, skating, and extreme sports and by the time he turned 20-21 years old he was already involved in Cage Fighting with the Mixed Martial Arts in Albania.
He joined as early as this sport's federation opened its doors in Albania while attending the Sports University of Tirana. The founder of the Mixed Martial Arts Federation in Albania, Arjan Rizai, would eventually become Ermal's trainer. Training both in Karate and in Cage Fighting, Ermal participated in the Mixed Martial Arts (MMA) championship in Albania and claimed victory 3 consecutive years. Simultaneously, he also participated in the Balkan Championship twice and twice he won the Championship Title.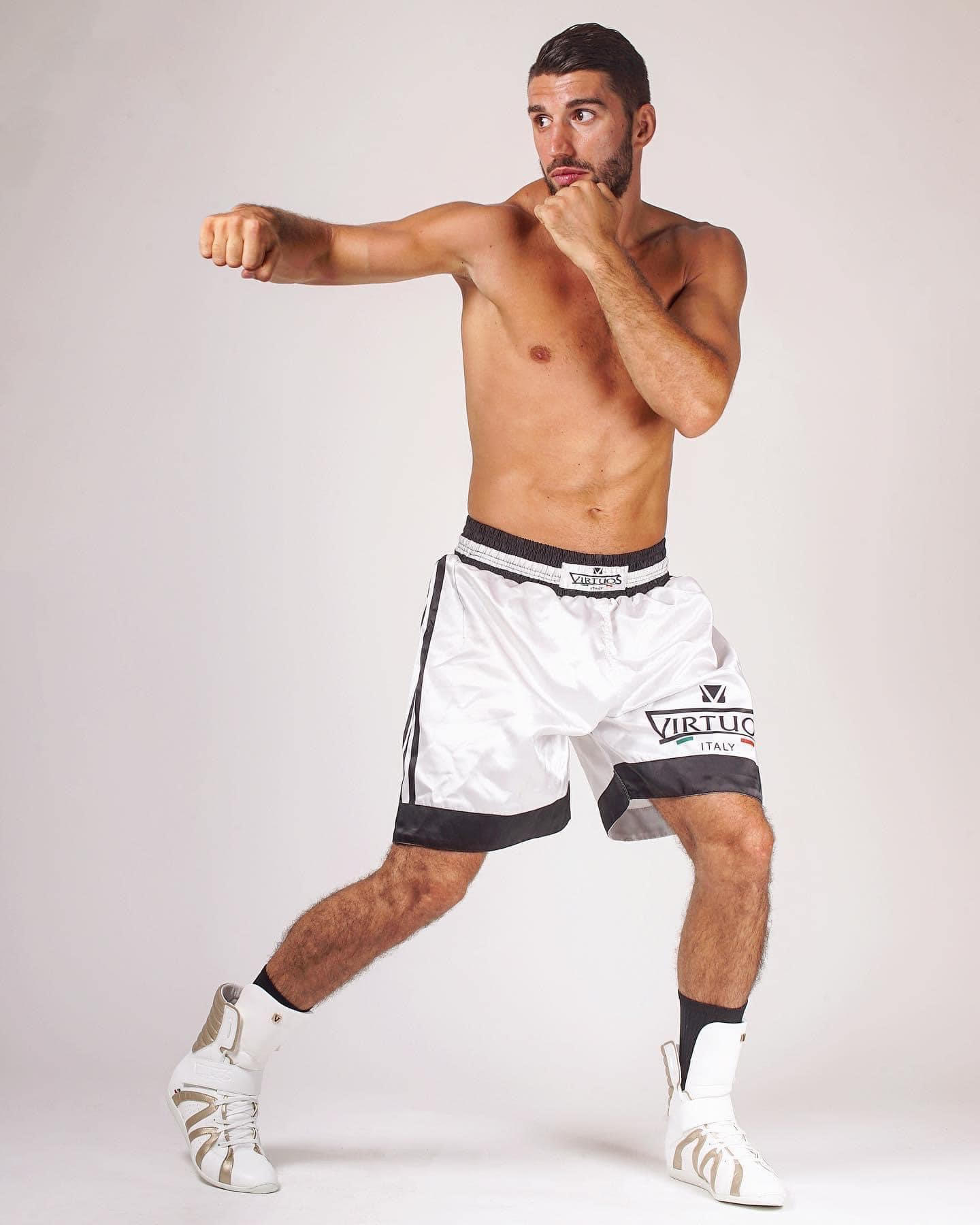 He also participated in the European Championship as well as that of the World Mixed Martial Arts (WMMA) in Dubai.
With a fighter's and winner's spirit Ermal overcame his personal injury while in Dubai and won third place in the world during the WMMA 2018 championship. Ermal broke his finger at the first match but continued to compete without thinking of dropping out. He recalls that he would have won the gold medal if he did not suffer that injury.
The performance and the fighter spirit made quite an impression despite the challenges he took on. The MMA company in Dubai — the largest one of this kind — offered Ermal a matching contract. Naturally, this moment showcased how Ermal was viewed at the time. His talents were being sought after by this company and nevertheless underlined the story of a successful MMA fighter. Ermal had other plans for himself, though. After the WMMA championship in Dubai concluded he made the decision of taking his career to America.
When he arrived in Michigan, Ermal made the most of the time that he had. He won two other matches with KO. At the time of our meeting Ermal had already won 19 MMA matches and 10 Boxing matches. Sky Sport's Richard Damerell had written a great article about Ermal's fighting style and skills. He had quoted Ermal saying, "What I like to do with my opponent is download him in two or three rounds. The next rounds, I'll just shift the gears, and probably knock him out." The article also states that Ermal Hadribeaj has assumed a similar boxing style to Vasiliy Lomachenko.
While in Michigan, he planned to visit Miami. During the visit to Miami, Ermal enjoyed the view of the city, and the weather, but most of all he enjoyed the athletic opportunities. And the decision was made. He stayed in Miami and started his amazing journey in professional boxing. Ermal said: "I saw people who exercised and jogged outdoors. I like to train in nature and Miami reminded me of Tirana Lake where I trained. The Miami setting gives me the feeling of motivation. My focus has everything to do with training and in Michigan I could not accomplish this task as easily as in Miami. One problem though, my brother lives in Michigan. It was a problem not to have him here."
When Ermal speaks and shares his story, it's evident how much he loves his family, and his country. His childhood memories are filled with beautiful stories with his grandmother, parents, and his brother. His father and brother are an important part of his career in sports. The three of them are very close. As an uncle, Ermal shares how much his niece and nephew mean to him. The love for his country gets expressed in every match Ermal participates in, from his uniforms, to holding the Albanian flag, to even playing Albanian music in his videos or right before his matches. He fights with his country in mind and soul. His dream of coming to America included being close to his brother who lives in Michigan. And it is in that feeling that Ermal portrays the best values a person could represent and be a role model for others.
Ermal recalls how he felt about his move to Miami and how his motivation and his beliefs carried him through. Not knowing much about America, and not knowing much about Miami were difficult enough. How about the passion for his sport, how would he navigate that? Even though nothing was clear, Ermal's vision, strength, belief, confidence, determination never wavered. He tells me, "I felt motivated and I trusted my vision and my beliefs. I had no idea that I would meet my trainer, I had no idea that I would be boxing. It was all unexpected and unplanned. I relied on trusting myself, on trusting that it would all work out even though I knew no one, I had no idea where to train, I knew nothing. In other words, what I did is to follow my heart and be confident about the outcome. Now that I look back on my three-year journey in Miami and having met my trainer, my manager and people who really care and take care of me and hope I achieve a lot and become a champion, I say oh God!"
I asked Ermal to tell me more about his journey in Miami. After all, I moved to Miami three years ago when I decided to depart from Cleveland. And for someone who lived in America, Miami was not simple to figure out. It is a big city which is often compared to Manhattan. Therefore, I was even more curious how Ermal made such a drastic change in his life and got to follow his dream, while working with great people.
Ermal remembers: "I was looking for a Mixed Martial Arts gym. I met an Albanian from Tirana who lives here in Miami and asked him to help me find a Mixed Martial Arts gym. He told me he had a friend who had a gym. We went there and he introduced me to the trainer I have today. But the problem remained that this gym was not a Mixed Martial Arts gym, it was a Boxing gym. Unknowingly, he addressed me in the wrong gym but I did not say much. The trainer (who became my trainer) said to us– 'What can I do with a Mixed Martial Arts fighter?'"
That same day the trainer Donato De Martiis simply tested Ermal with a professional boxer. Watching Ermal in the ring, the trainer realized that Ermal was a great and talented fighter but he needed to work with him and train him. What a great story…. This is how Ermal started his career in Boxing. No amateur career in boxing, straight to the professional ring.
Ermal talks very highly of his trainer. The trainer believed in Ermal and he also had a plan. As per that plan, Ermal trains rigorously and is winning. Ermal shared with me, "Actually, my trainer, Donato, is one of the people that has supported me the entire time. He is the reason I am here today, and the reason I did not move somewhere else. He is the only person who believed in me and who had a vision much larger than that of others. We started working together and people started to notice. Then people started to believe in us and the group of people grew. I do like the relationship that I have with my professor (trainer), the way we communicate with one another, and how hard we work. This kind of relationship and how well we work together has motivated people to support us."
Ermal also talked with me about great Albanian men who he has befriended and enjoys spending time with. And he also has met other great people who, even though are not Albanians, have helped him just as if they were. "My Albanians" as he calls them.
These days Ermal's focus is all about training, which includes long hours. Other boxers he is faced with have a history of boxing and have boxed for a long time. Ermal overcomes all the obstacles by being committed, showing up and doing the hard work. He understands that being a player in this environment with high level and experienced boxers, that what he needs to do is to engage in extraordinary training efforts, a strict training schedule and be really strong to fight them. He is dedicated to his training, rigorous training which translates to his outcomes of success. He has faced players recognized around the world and won. In a time as short as 2 years, and with no experience in boxing, he has won 10 games consecutively.
Because of his success and consistency, world champions have asked him to be a training partner. And that in itself is another outcome of success, achieved by hard work and sacrifices. At this world boxing level, Ermal engages thoughtfully and enjoys respect. Training with this caliber of people speaks for itself. Ermal dances in that group of world class boxers and has his eye on the big prize.
Now he is getting ready for the WBC Mediterranean Title Fight on September 25, 2021. Ermal will compete for the Welterweight Mediterranean Title and will fight against the Greek boxer, Thodoris Ritzakis. Winning this title will propel Ermal from the top 2000 in the world to top 30. His training schedule is insane but as always, he remains focused and pours all that he has in the ring. One of the people who has now become one of his supporters built a campaign effort that has never been done for a sport's player before. He followed Ermal during practice and created the following crowdfunding campaign: https://wefunder.com/the.sniper.inc.2/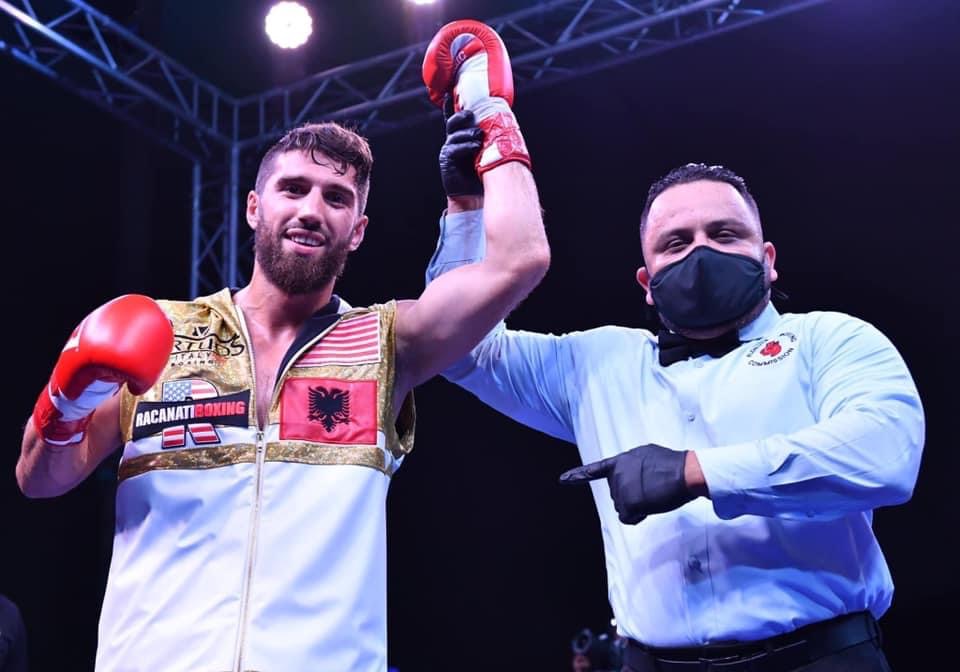 The link takes you to a page that reads: This link is to invest and buy a % of me, be part of my team #thesniperincorporations
When talking about the upcoming match, Ermal shares that even with a strong fighter on the other side of the ring, he is prepared to bring his best to the match. He is bringing much to this game. He credits his Albanian pride, the European style of fighting as well as the American style of fighting as the three core elements of this match's strategy. Ermal said, "I have experience with the European fighting style, and I now have earned experience with the American style. Having those two experiences on my side and with my Albanian pride, I believe I am ready for the title in September and for the future."
Whoever can attend the match should. You would experience something that started when Ermal was 7 years old. Nothing starts from nothing. Everything you witness in Ermal's fighting performance is a combination of all he has invested throughout his life. When Ermal is in the ring he does not lose his focus — he possesses and controls the ring, he blocks out all the noise around him. From the moment he walks in, the videos and the music he chooses create a festive and celebratory feeling, but he looks straight ahead with focus. Of course, Albanian regalia and Albanian music fills the ring. He keeps going…. towards The Ring. He starts fighting and does not lose focus. He remains standing even during his breaks. Does not sit… Then he wins. He does his flip up in the air as everyone cheers his victory.
Victory despite not speaking the language when he moved to Miami, not knowing anyone, starting to box with no prior experience, gaining the trust of the trainer, gaining the trust of the boxing world, with no parents and friends to cheer him on. That's Ermal "The Sniper" Hadriebeaj. He achieved so much on his own. The sacrifices come together in the ring and propel him to success.
In his journey with his trainer, Donato De Martiis, Ermal felt very responsible right from the beginning. Unlike anybody else, Ermal had to earn the trust of his trainers in many ways as he was not the usual boxer, for a multitude of reasons. He had no amateur experience in boxing, so he had to give his maximum effort 24/7, show up every day and always be on time. He followed his trainer's advice and respected his time and dedication to Ermal. When the two of them met, Donato had retired from the world of training and sort of resigned, as some of the people he had trained had created disappointment. He put Ermal on a training schedule but that was all. It was during the first match in New Orleans that their relationship transformed into a trusting one, where both realized the other's commitment was real. After the first 2-3 matches a strong relationship formed and Donato became the biggest supporter of Ermal on many levels. He truly cares for Ermal and works daily with Ermal.
This time with Ermal was very insightful and endearing. It is the story of people who are champions and role models. I asked him a couple more questions before concluding my interview.
Ermal peacefully says, "This moment here in Miami. From the time I moved to Miami up to now has been very difficult but a very proud time too. I am focused, I work, I train. I remain focused in my career and partying is not something I do. My desire for sports started at such a young age, training hard always but never gave up. For me sport is life and I also believe that on the other hand, given my dedication to the sport I have not thought of me about the tomorrow and after tomorrow. There are people who think of something else in case nothing comes out of sports. I have never brought that thought to mind. I have not thought about myself. Only about the sport itself and always committing to it and dedicating myself. I know there are B plans but I have never even thought of a B plan."
Ermal is on this journey sacrificing much but you will never ever hear him use it as an excuse. In Ermal's journey there is one plan, Plan A. Plan B says focus on Plan A.
If I were to interview him right after a match he would answer peacefully and very easily speak with me. I see him being interviewed and he calmly answers their questions. He is a true sportsman. All the elements of his persona have come together, including managing his media interviews.
He is on the road to the Champion title. Ermal says they are on the way to the world championship, assessing what he has accomplished in his time in Miami. It might take more time but the plans and the vision are large just as this great duo, Ermal and Donato. That's so admirable and so commendable and that's what makes Ermal the fighter and the "never give up" attitude of a sportsman. He uses his vision and his strength to look forward and keep his eyes on the victory.