Nga Julika Prifti
6 shtator 2021 – Sivjet, pas shumë vitesh, vizitova përsëri një vend-varrimi. Në Tiranë, varrezat nuk doja t'i vizitoja sepse atë vajtje e bëja vetëm kur largohej nga kjo jetë ndonjë familjar apo i njohur. Ishte një shkuarje e dhimbshme dhe e trishtueshme. Vetëm një herë kam shkuar me dëshirë e me zemër të lehtësuar. Kjo ishte sepse për herë të parë nuk po veja të varrosja ndonjë të afërm a të njohur. Këtë herë në varreza nuk po shkoja te varrosnim dike. Këtë herë  po shkoja të vetëm të shikoja një varr. Një varr të vetëm ne Varrezat e Kombinatit.  Disa kohë më parë ishin shpërngulur atje eshtrat e Enver Hoxhës, diktatorit shqiptar. Ai, i cili, çoi në varreza para kohe një mori njerëzish me faj e pa faj me pozita të larta e pa asnjë pozitë, të afërm e të panjohur, miq e shokë, të rinj e të plakur. Tani ishte  "shpërngulur" nga varresat më të bukura të Shqipërisë,  me ngjyrë uniforme, të bardha si shkuma e detit, rrethuar nga bar i gjelbër e pemë të gjata, të cilat nuk e humbnin gjelbërimin e tyre as në dimër e as në verë. Me vendosjen e kufomës se tij në atë varresë u thye rregulli. Varri i tij binte në sy menjëherë se u ngrit shumë më i lartë se i të tjerëve, shumë më madhështor e shumë më i shtrenjtë; qe prej mermerit që u tha se u ble në Itali e gërmat që vendosën mbi të u tha se ishin larë në flori.
Dëshmorët shqiptarë u duk sikur u zvogëluan disi në përmasa nga ardhja e tij. Ai zotëronte mbi të gjithë varrezën.
Ne fillim te viteve '90 kohët ndryshuan edhe në Shqipëri e me ndryshimet e reja ndryshoi dhe mendësia e rolit të Hoxhës në historinë e vendit.
Në Amerikë u çudita të shihja varrezat të përdoreshin si vend ngrënie e pushimi. Në kohën e drekës stolat e shumë varrezave pranë kishës së tyre ziheshin nga punonjësit që hanin drekën e blerë në dyqanet e shumta.
Në Trinity Church në Manhattan në pushimin e drekës nuk gjeje një stol të lirë. Më pas aty këtu gjeje vende të lira për tu ulur e për tu çlodhur nga vapa apo ecjet e gjata.
Pak nga pak fillova të ndryshoj mendim për varrezat e ti shoh jo vetëm si vend – banim i fundit. Aty mund të dalloje art e arkitekturë të kohërave të ndryshme. Të dalloje respektin e dashurinë , mirënjohjen për kontributin e dhënë nga "banuesit" e ndryshëm. Po edhe në varreza kishte dallime nga pasuria apo pozicioni i mbajtur gjatë kohës së kaluar mbi tokë.
Nga kjo perspektivë e re e nga udhëzimet e librave të udhëtimeve vizitova varreza te ndryshme; Varrezat çifute afër Milanos, varrezat ne Paris ( per te pare varrin e Morrison), varrezat ne Buonos Aires, në New Orleans.
Po asnjë nuk mund te krahasohet me çka pashë në gushtin e 2021, me vatjen time ne Vermont. Waterbury ka vend –varrimin me interesant qe do te lere goje hapur shume vizitore.
Vetëm në këtë vend- varrimi vëren një barazi të paparë në asnjë shkallë të shoqërisë njerëzore deri më sot. Vetëm këtu të gjithë gurët e varreve janë të së njëjtës madhësi, të të njëjtit material, të të njëjtit model. Mbi çdo gur është shkruar me të njëjtën madhësi germash e me të njëjtin stil. Këtu nuk ka asnjë ndarje në të pasur e të varfër, në të përparuar e të prapambetur, në të bardhë a të zinj, në aziatike, europianë apo afrinakë a latinë. Një varrezë ku trishtimi i largimit barazpeshohet me gëzimin e barazisë së përjetshme. Një barazi shembullore. Mbi te gjitha vetëm në këtë vend -varrim shikon deri në tri data të ndryshme lindje e vdekje ne te njëjtin gur. Nuk kam vizituar varreze tjetër ku te mund te vdesësh e te ngjallesh përsëri. Vetëm në këtë varresë leximi i gurëve të varrit të bën të qeshësh me të madhe.
Në fakt ky nuk është vend –varrim për njerëzit, jo,  as për kafshët. Ky është vend-varrimi i shijeve të akulloreve që nuk munden të pëlqehen përgjithmonë akulloredashësit e botës.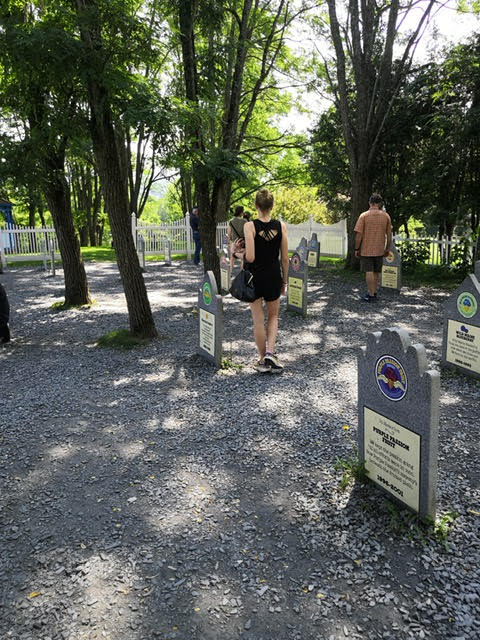 BEN AND JERRY'S FLAVOR  GRAVEYARD
Purple Passion Fruit
We kept the passion going
'til all efforts were in vain.
Now Purple Passion's majesty's
Beneath the fruited plain.
1996 – 2001
Sugar Plum
It swirled in our heads,
It danced in our dreams.
It proved not to be, though,
The best of ice – cream.
1989-1990
Tennessee Mud
The bottle is empty
The cup, and the glass
Mud with Jack Daniels
Was not meant to last.
1988 – 1989
Vermont Python
Right then… is it dear or
No it isn't…. isn't it?
Yes it is…
No it isn't….
Rubish! You're a loony
No I'm not
2006 -3008
Aloha Macadamia
We won't blame the macadamia
But we were kinda in denial
The Market place had spoken,
Mac got aloha'ed off the aisle
2001 – 2002
Coconut Almond  Fudge Chips
This coconutty contender.
May never surrender.
Of the Graveyard's legendariest,
It's among the temporariest.
1993 – 1993
1998 – 1999
2001 – 2006
Chocolate Chip—Cookie Dough—Frozen Yogurt
So now we know our Dough Fro Yo
Just wasn't as great as expected.
Folks who love Dough as well as Fro Yo
Love 'em separate, not interconnected.
1994 – 2001

Honey I' am Home
It was a honey of a flavor.
But all too brief a live affair.
Honey ran away from home.
To new digs, you. – know -where.
2002 – 2002
Devil Food Chocolate
The Devil took the blame
For all the rich indulgence
Now watch him fan the flame melting puddles of
Wicked succulence
1996- 2001
Fossil Fuel
Fudge dinosaurs galore
Got all dug up 'til there were no more.
A flavor re-design might be di-able.
But Fossil Fuel is non-renewable.
2006-2010
The Wich
The Wich that was
Was wicked good
And all was well
Forqeite a spell
However it was
The Wich that was
Was ditched… because…
2004-2006
Turtle Soup
Slow and Steady wins the race
Turtle Soup kept up the pace.
You may protest, but are suggest
Turtle Soup deserves a rest
2006 – 2010
Creme Brulee
Pardon our French
But we still swear
Our Creme Brulee is
Beyond compare.
So it may not beacoup
Too late to cave
Breme Brulee from
Beyond the grave
2007 – 2012
Wavy Gravy
Just so there's no confusion
We thought we oughtta warn ya:
Wavy Gravy isn't dead –
He lives in California.
No such luck for Wavy's flavor,
But we've been wrong before,
We won't give up the ghost if
You won't,
So what 're you waiting for?
1992 – 2001
Cool Britannia
A flavour so smashing-
And yet it fouled out;
Strawberries and shortbread-
A love match devout
But sadly it missed
All the fame it deserved.
A bit to much English
Put into the serve.
1989 – 1990
R.I.P.
Peanut Butter and Jelly
An unbeatable duo!
Yet somehow it managed
To flop in a cone,
So we stuck to the sammich.
1989 – 1990
Boviniti Divinity
Where do all the cows go
When heaven gives the word?
This flavor kicked the bucket
When angels took the herd.
1998 – 2001
R.I. P.
Peanut Butter Me Up
Since P. B. Me up went under
Nobody seems to miss it.
Which is why it's in this Graveyard,
Which everyone loves to visit.
2002 – 2003
in memory of
Holy Cannoli
Now in front of the pearly gates,
Holy Cannoli sits and waits.
What brought its ruin no one knows.
Must have been the pistachios.
1997 – 1998
Chololate Peppermint Crunch
Alas, this flavor, sad to say,
Met its fate on fudgemint day,
No minty bliss nor cookie sphere
Could save it, which is why it's here.
2013 – 2016
R.I. P.
Boston Cream Pie
Who doesn't love Boston Cream Pie?
Nobody that we know of.
Can't say the same for the ice cream.
Which we finally had to let go of.
2010 – 2016
Neapolitan Dynamite
Fans of the flick about a
Gawky high schooler
Thought the the flavor we made
Could have been a lot cooler.
Gosh! If we'd been quicker at
Reading their thoughts
We'd have realized they
wanted a flavor with tots.
2006 – 2010
In memory of
Urban Jumble
The chaos and cacophony
Of busy city life
Lies peaceful now under a maple tree,
The flavor lost its strife.
2000 – 2001
In memory of
Rainforest Crunch
With aching heart and heavy sigh
We bid Rainforest Crunch goodbye,
That nutty brittle from exotic places
Got sticky in between or braces.
1989 – 1999
This is Nuts
The name was meant to say it all
Without the pompous prose
Was it nuts we chose to say so,
Or was it the nuts we chose?
2001 – 2002
Hi Pear
Oh Pear, Oh Pear,
A mixture of mirth
All nannies did weep
When you left of this earth.
1997 -1997
Fresh Georgia Peach
Fresh-Picked Peaches
Trucked from Georgia
Tasted great but couldn't last
'Cuz Georgia's quite a –way away
And trucks don't go that fast.
1986 -1991
White Russian
Bid adieu to ol' White Russian,
Our tears, they are a –gushin',
But in our scoop shops,
please don't forget,
Dead it's not, oh no , not nyet.
1986- 1996
Economic Crunch
A delightful mash,
This flavor we remember
For the stock market crash
On the sixth of November
1987
What a Cluster
Gooey marshmallow,
Caramel and p.b.
What a Cluster it was,
but inevitably
Stuff happens,
So for beter or worse,
What a Cluster was
trucked away in the hearse.
2011 – 2014
That 's My Jam
This core concoction was a'rockin,
'til the Reaper came a'knockin.
Maybe someday who-knows-when,
More fans'll give a jam again.
2014 – 2015
Dave Matthews Band's Magic Brownies
The first edition was
"too vanilla."
So we more or less re-mixed it.
The encore was raspberrier,
but not enough,
so we deep-sixed it.
2007 – 2011