After the successful Hyland Peace Concert for Kosova in Vatican, ADBN is planning Peace concerts and conferences in London and Washington, and the President of ADBN France Hazis Varda is organizing a Kosova HCGS UBT Conference in Paris
Interview with Christopher Hyland who was organizer of, and, with Jim Xhema, was Chairperson of the ADBN Rome and Vatican Kosova events. He is a recipient of Kosova's Order of Dr. Ibrahim Rugova, a Knight of Skanderbeg, Albania, a recipient of the VATRA Gold Medal, and has a Honorary Doctorate from The University of Prizren, and the equivalent from UBT.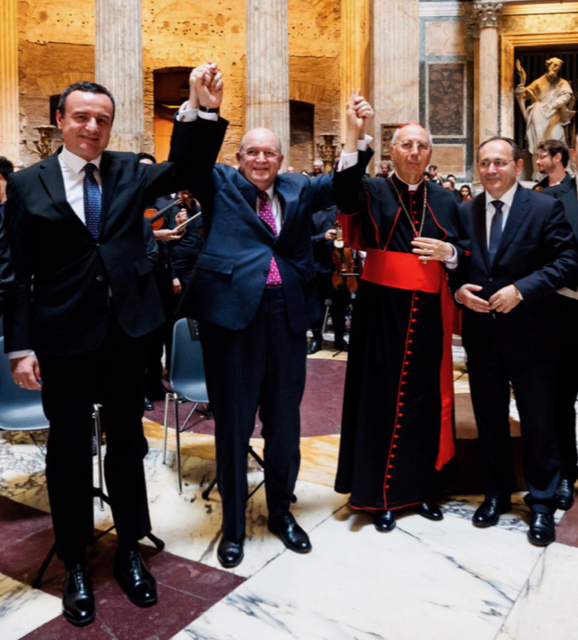 Mr. Hyland, when it comes to Kosova, most of the attention in the media has been on the security crisis in the north, but as time passes history might consider the Hyland Peace Concert in Rome as the true highlight of the summer of 2023.
What are some of your impressions from that extraordinary event?
First and foremost, in all this amazing Kosova and Vatican narrative, an engaged, dynamic Prime Minister Albin Kurti rose to the occasion brilliantly. Prime Minister was a great support to ADBN and to me. Prime Minister Kurti and Pope Francis, together, made game changing history. To them is owed much credit.
My goal was to do everything possible to animate concrete recognition of Kosova by the Vatican, exactly what was achieved here, the announcement of a Papal visit to Kosova. I learned from my Father and Mother, and during my tenure as Deputy National Political Director in Charge of American Ethnic Communities for then soon to be President Bill Clinton, to approach achieving a goal by circling the center, often by championing easily agreeable causes and events. In doing so one activates often moribund players, often only moved to action out of fear of themselves being left behind. The important thing is that, however unwilling, these elements are compelled to act. Some acted even though they were clearly opposed to Prime Minister Kurti and to Kosova success. It was interesting to watch. In this instance, ABDN and myself as prime catalysis, are very evident. Well done ABDN.
Clearly, history is moved by countless actions initiated by numerous individuals and groups. Occasionally, certain events contribute to moving core issues of history to new places, to new positions, often in tandem. Historians may very well find the premise of your question very insightful.
The presentation I gave, days before the Papal meeting, at LUMSA sponsored by the UBT Hyland Center for Global Studies, Edmond Hajrizi, Rector, which drew attention to the dignity of Kosova -certainly the attack on the Kosova Constitution- would have drawn attention, setting some groundwork for the week's success. The head of LUMSA is a former Foreign Minister of the Vatican, what the Vatican calls Secretary for Relations with States. Prime Minister Kurti mentioned to me the impact of my talk.
The Albanian Diaspora Business Network, Naim Dedushaj, Director, sponsored series of events in Rome and The Vatican, highlighted by the Kosova Hyland Peace Mass in Concert, which the Office of the Prime Minister of Kosova also sponsored, contributed much to success.
Prime Minister Kurti, who attended the concert, fortuitously was able, the next morning, to meet privately with Pope Francis, all of us contributing to urging that inevitability. From that historic meeting the announcement, in great part, that Pope Francis will visit Kosova flowed. Clearly the Prime Minister, and the events surrounding his successful visit with the Holy Father, left an impact. By having been told by all -all emphasized- parties that the Prime Minister Kurti and Pope Francis meeting would never occur, and that there would be no Vatican support demonstrated for Kosova at all in any way, makes this turn of events very important. I am glad we proceeded, nevertheless. Clearly good, positive, thoughtful energies result in good outcomes.
Two Ambassadors have mentioned to me the importance to Kosova, and its position in the world, of this turn of events, namely of the Prime Minister Kurti and Pope Francis meeting and of the subsequent announcement of Pope Francis' intention to visit Kosova. The entire membership of the Albanian Diaspora Business Network should be happy with the results they helped animate.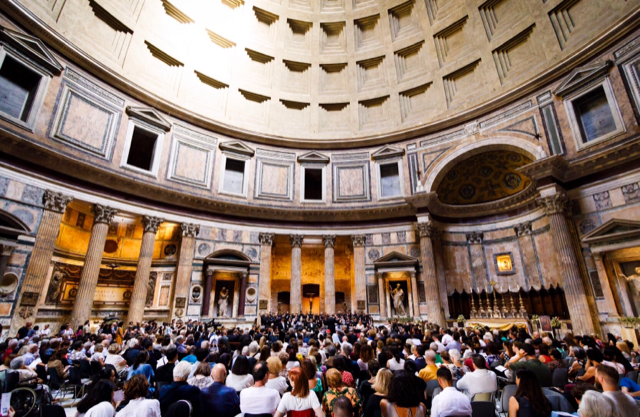 This was a project that took a lot of effort and energy to organize. Did it fulfill your expectations? Were the performances and the attendance at the level that you envisioned?
It was a huge effort to undertake. Naim Dedushaj as ADBN Director, Hazis Vardar and Muharrem Salihu as the major donors, The Office of the Prime Minister of Kosova, Edmond Hajrizi and Vebi Bajrami, among thirty other donors and supporters, deserve much credit. My fellow Co-Chairperson Jim Xhema was fully supportive, his name at the top of the program.
The attendance of the Kosova Hyland Peace Mass in concert at The Pantheon, Rome was more than acceptable capacity, all 600 available tickets, which were free, spoken for days before the concert. I am told another two hundred people stood.
The other events were designed for relatively small groups by virtue of the limitations imposed by the Vatican Archives, Vatican Gardens Pavilion, and the Vatican Gardens Chapel where a world premiere of the Spirit of Kosova Hope Hymn, composed by Hajrullah Syla, and sung by soprano Adelina Paloja, was performed with a Vatican related choir: all these events full capacity. We hope The Kosova Hymn will be performed for the Holy Father when he visits Mother Teresa Cathedral.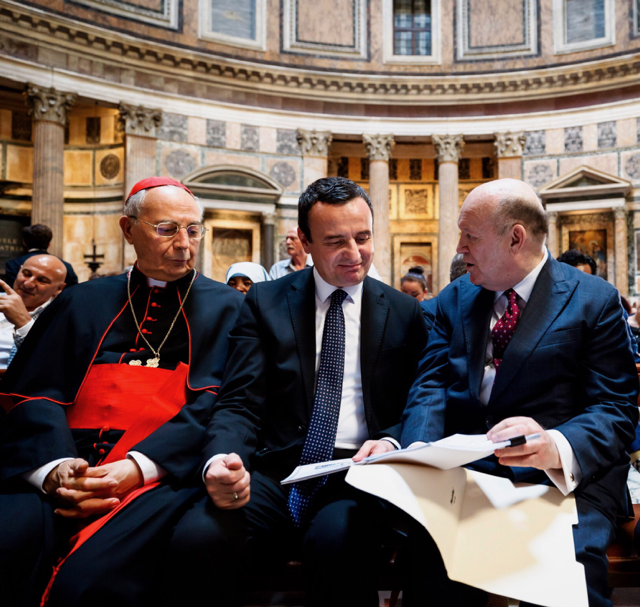 Indeed, only a few days ago, the Holy Father, Pope Francis spoke of a possible trip to Kosova. To what extent your Concert and your engagement with high officials and noted personalities of the Vatican may have played a role in this decision?
As I mentioned before, many factors lead to events occurring, certain ones such as these, more clearly animating, or if you will, prodding, history. It is clear that the Kosova Prime Minister's Office partly sponsored, together with the Albanian Diaspora Business Network who were the main sponsors and organizers, the Kosova Hyland Peace Concert at the historic Pantheon, as well as several other events; that Prime Minister Albin Kurti attended the concert, beforehand requesting -and our strongly suggesting and supporting- a meeting with Pope Francis; that that request was granted even though the Holy Father had just left the hospital, and that, on top of that, the ADBN events were organized, at my request, on the ground, by a Vatican connected cultural foundation who's honorary Cardinal Board Chairperson had, until recently, been the equivalent of Vatican Foreign Minister, the very same Vatican Secretary of Relations with States that lead the office during a period of Vatican distancing itself from recognizing Kosova. That Cardinal graciously attended the Peace Concert, seated to the right of the Prime Minister, myself to his left. I shared my suggestions with Prime Minister Kurti regarding his next morning meeting with His Holiness. At the end of the Peace concert, I raised both the Cardinal's and the Prime Minister's hands high in the air -myself standing between them- as visual manifestation of solidarity. There is much more to say, but that is best left for much later.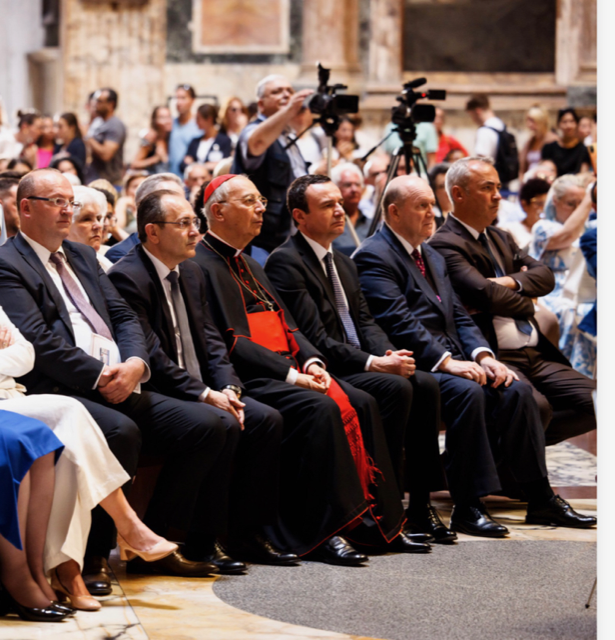 What would a visit of this magnitude mean for Kosova and its Catholic community?
A great deal, but, more so, much more so, Pope Francis' visit to Kosova means everything for every citizen of Kosova, no matter their backgrounds. The oldest, continuously operating sovereign jurisdiction in Europe, one with much diplomatic credibility, is saying to Spain, to the United Nations, to Russia and to China, we care to interact with this small state with a remarkable Constitution, one where Moslem citizens help fund a Cathedral, where the Founding President helped to design it and where there is a sincere effort going on to be ever better, to be a place that safe guards constitutionally guaranteed freedoms, religion among them.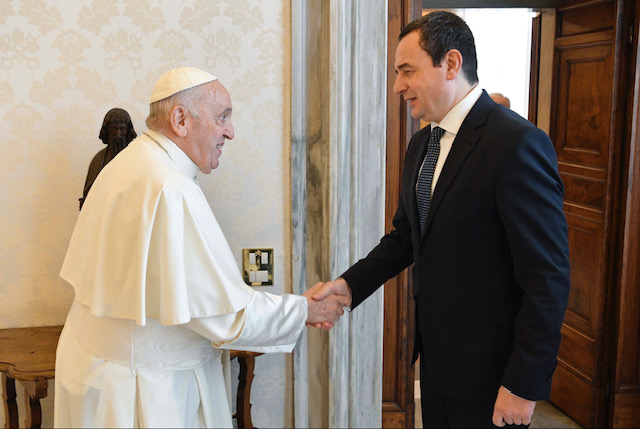 Catholics in Kosova have always felt a little forgotten and ignored during the last three decades, while a lot of international attention and resources have been devoted to the Serbian Christian heritage and minority. In a way, the Vatican too has tried to keep a balance, maintaining a good relationship with Serbia and the Serbian Orthodox Church. Why do you think the Vatican has been so reluctant to recognize Kosova?
The announcement that Pope Francis is visiting Kosova is a huge, game-changing recognition. It comes at a time when Kosova is being pressured to abandon its Constitutional path, shockingly from unexpected directions. The security felt by the small minority of Catholics in Kosova speaks volumes about Kosova. Citizens of all communities who embrace the remarkable Kosova Constitution have freedoms.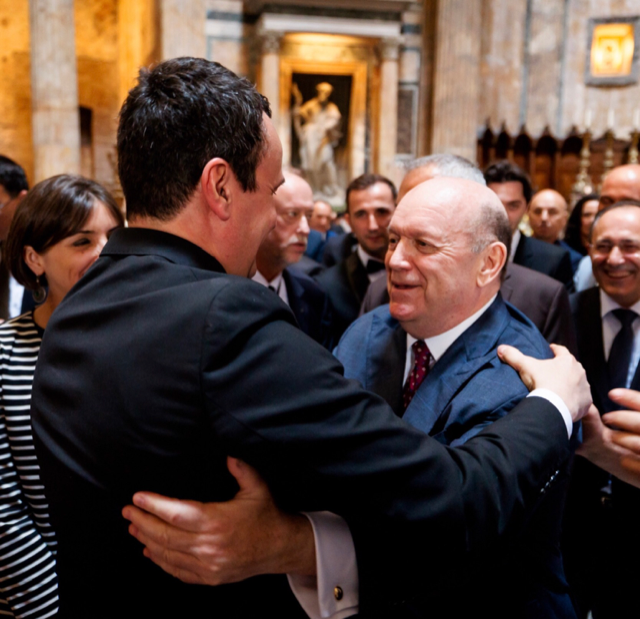 What would you suggest to the government of Prime Minister Albin Kurti in terms of improving the relationship with the Vatican and moving closer to a possible recognition?
What Prime Minister Albin Kurti achieved in Rome at The Vatican and Rome events speaks volumes as to his considerable ability. To further highlight the Papal visit, a Peace and Reconciliation memorial/monument to all those who have suffered and died should be inaugurated. I have suggested this monument in some detail. There should be more efforts to explain in more detail to the world the extraordinarily inclusive aspects of the Kosova Constitution, the most accepting of diversity of and protective of all kinds of diversity in the world. The forces that would destroy it are ill intended, representing forces if oppression. The Kosova Paris Conference Hazis Vardar is organizing for October 2023 will do much to draw attention to the Kosova Constitution.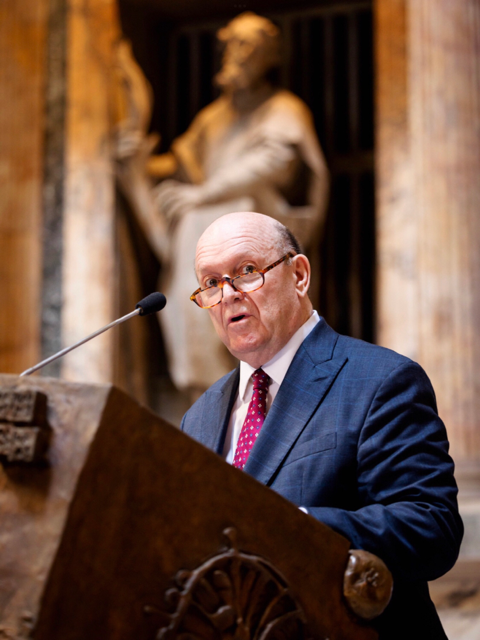 Mr. Hyland, you have been now a few times to Kosova and the "Albanian neighborhood". What have these visits meant to you? Will you remain engaged on Kosova whether through the Hyland Concert for Peace, or other projects and initiatives?
I am connected historically to Kosova and to the region, that inevitably will be forming part of my ethos for the rest of my life. There is still much to do. The Kosova Constitution, the finest in the World, wants to be defended in all quarters. ADBN is planning Peace concerts and conferences in London and Washington, and the President of ADBN France Hazis Varda is organizing a Kosova HCGS UBT Conference in Paris. Kosova must and will always remain sovereign and inviolable.
Thank you for the opportunity to share these thoughts with you.
(Interview by Ruben Avxhiu)