My 25-year journey with the AAEF, the ABA, and the AADF
By: Cafo Boga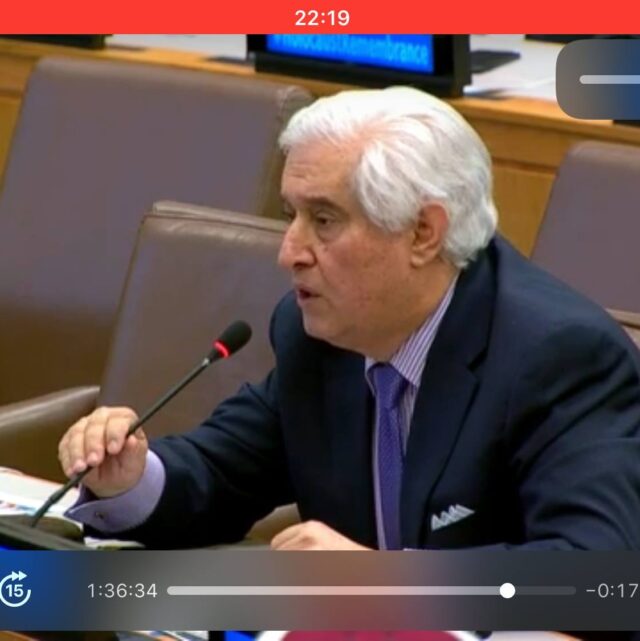 A friend of mine called me the other day to ask me why he could not find my name on the Albanian-American Development Foundation (AADF) and Albanian-American Enterprise Fund (AAEF) websites. This friend knows I have been with these organizations from their very inceptions and is familiar with the contributions I made for over 25 years to help Albania and its people. I did not know what to tell him, but I immediately thought of the story behind "This too shall pass…," a Persian proverb by Sufi Saint Fariduddin Attar. I told my friend, "It's a long story—which I will explain some day—but for now, it suffices to say, 'Don't worry, this too shall pass.'" That is why I am using the same expression as the title for this article. For those of you who have read this proverb, you likely know why; for those who have not read it, I suggest you do so, because it will make you realize that no matter how successful, rich, or influential someone is, in the long run it really does not matter. We are on the same boat with everyone else—just passing through—and one day we will all be gone and leave very little or no trace behind. The proverb reminds us that when things are bad, it will not always be that way; take one day at the time. When things are good, it may not always be that way. Enjoy life and be fair to others because you never know: Tomorrow may be quite different. It is better that my name is not listed at all than to be listed in the "memoriam" section with some of my dear collogues with whom I have worked together so well.
This article is a summary of our achievements in which I played a pivotal role, as well as a farewell to those who have appreciated these contributions and who care for the wellbeing of Albania and its future. To provide the proper perspective for the sequence of events, I will start by outlining a brief history of my journey with the Albanian-American Enterprise Fund, the Albanian-American Development Foundation, (hereinafter, referred to as "Fund" or "Foundation," respectively), and the American Bank of Albania (ABA).
My connection with the Fund started before there was a fund. In 1989, the United States Congress approved the Support for East European Democracy (also known as "SEED) Act to be implemented beginning in fiscal year 1990. The SEED program was comprised of diverse undertakings designed to provide cost-effective assistance to those countries of Eastern Europe that had taken substantive steps toward institutionalizing political democracy and economic pluralism. Initially, Albania was not on the list of approved countries. It is fair to say that without persistent lobbying by the Albanian-American diaspora in Washington, Albania most likely would not have been a beneficiary of this assistance from the United States. Finally, Albania was added to the list of the countries participating in a SEED program, and $30 million was allocated for this purpose. The AAEF was incorporated in 1995, with the initial capital of $30 million provided through a grant from the United States Agency for International Development (USAID) and maintained offices in New York and Tirana.
The White House appointed Dominick Scaglione as the chairman of the AADF, as well as all the initial board members. I did not immediately join the board because Mr. Scaglione and I were contemplating establishing an American-Albanian bank, but we were debating whether the headquarters should be in New York or Tirana. After it was decided to establish the bank in Albania, I joined the Foundation's board in 1997 as another presidential appointee. The initial board members were all successful professionals in their respective fields; however, I was the only Albanian/Albanian-American on the board. Upon joining, I was immediately appointed the chairman of the Credit Committee. In that capacity, I had to undo some of the practices that were done at the very beginning—such as charging perceived "high-risk" borrowers extraordinary high interest rates that would bankrupt businesses even in the United States. My actions and banking knowledge led some board members to suggest that I become vice chairman; however, I declined that idea because serving as committee chairman allowed me to make greater contributions than being a vice chairman.
Around 2000, out of the blue—and under mysterious circumstances—Dominick Scaglione stepped down from the chairmanship, and Michael Granoff succeeded him. Soon after, I was appointed the chairman of the Audit Committee of the AAEF and the ABA. I served in that capacity at the Fund to my last and at the bank until it was sold on July 2007, and I assumed the same position upon establishment of the AADF. It is fair to say that the Audit Committee was the only one that functioned as intended—with the highest professional standards. Other committees functioned more informally than board committees should. Frankly, because of the work of the Audit Committee, it is not surprising that neither the Fund nor the Foundation nor the bank suffered any major mishaps considering that Albania is not so easy a place to do business. At the pleasure of the AADF and AAEF boards, I continued in this capacity until very recently; being a certified public accountant, I was the most qualified for this position. Michael Granoff continued to be appointed chairman, routinely ratified by the board. I always had a good working relationship with all the board members—including Michael, about whom I always spoke highly in the community; however, Michael is a complex person. He is often charismatic, intelligent, and highly capable, but on other occasions, I have found his behavior quite concerning. I will discuss those concerns later in this article.
I am deeply honored and pleased to have served on all three boards and to share in their successes for the past 25 years. Let me first talk about AAEF and its success story. The Fund's success became a catalyst for change in many aspects of life in Albania and a model of how to do business in a country with many fundamental issues. The Fund's visibility and capacity for business increased well beyond its initial capital. According to the AAEF website, the Fund has directly invested $109 million in 77 investments in 40 companies, creating thousands of new jobs and contributing to Albanian GDP. The most prominent and profitable investments were those in which the Fund acted as facilitator, but the partners had expertise in their respective fields, such as Tirana International Airport Nënë Tereza (or, "Mother Teresa"), Aleat Biometric Passports and ID Cards, Segal (later a member of UNIQA group, an Austrian company), Tirana East Gate (TEG) shopping mall, Tirana Logistic Park (TLP), ABA (a wholly owned subsidiary of AADF), and more.
The American Bank of Albania was established in 1998, as the first private bank in Albania, and was independently managed by Lorenzo Roncari, a former banker at Citibank. ABA was the first westernized bank in Albania, transforming the country's banking industry through the introduction of modern banking products such as mortgages, electronic transfers, Internet banking, and ATMs. The bank deserves a special mention because it was our most profitable investment. It grew rapidly with branches established in Tirana, Durres, and Vlora—as well as two in Greece—serving over 120 thousand customers. With its initial equity capital of $5 million (later increased to approximately $20 million through additional equity capital infusion and earnings retention) in June 2007, the bank was sold to Intesa Sanpaolo for approximately $164 million.
The Fund's term for investments was for a 10-year period. This meant that no new investments through AAEF were to be made after the term expired but those existing investments could continue to be managed and wound down. Consequently, the Fund is still liquidating the remaining investments. Since its establishment—with its investments made through the expiration date and liquidated so far—it has generated a profit of over $300 million dollars, not including profit sharing paid to employees. By the time all the investments are liquidated, this amount will become much larger. On January 21, 2011, in a ceremony hosted with the USAID in Washington, the board of directors of the AAEF returned $15 million of its original $30 million to American taxpayers. The Foundation's life is perpetual, or at least until its capital funds run out.
In 2009, with the proceeds realized from the Fund's investments—including the American Bank of Albania, one of our most profitable investments—we established the Fund's legacy organization: the Albanian-American Development Foundation. Today the Foundation is the most capitalized not-for-profit organization in Albania. AADF's mission is like that of AAEF—namely, facilitating the development of a sustainable private sector economy and a democratic society in Albania, as well as contributing to stability in Southeastern Europe. I am proud to say I was one of the Foundation's founding members and a member of the initial board. The founding members had the vested right to be reelected without limitation, whereas new board members served for a maximum of two three-year terms. As was the case with the AAEF, the AADF's board serves on a pro bono basis.
Pursuant to its mission, AADF decided to engage in the following programs: (i) Education for Sustainable Development, (ii) Entrepreneurship, (iii) Leadership Development, and (iv) Support for Cultural Tourism and Eco-Tourism. In fulfilling this mission, the AADF's approach was to identify qualifying areas to engage and develop innovative and quantifiable solutions to create sustainable impact. Moreover, the Foundation strives to implement solutions on best business practices directly and transparently, collaborating with other organizations and forming strategic partnerships to maximize resources and impact on the Albanian economy and society. Lastly, the Foundation evaluates its efforts and continues to improve and expand upon areas of engagement. In the relatively short time since its establishment, the AADF has already done much praiseworthy work in the aforementioned areas of concertation, but that does not mean it cannot do more. The key is not to become complacent and a victim of your own success but to allow new ideas to be heard—no matter where they come from. My business philosophy has always been that management should operate from top to bottom, whereas ideas, innovation, and development should initiate from bottom to top; however, for this formula to work properly, the top management and the board must be open to this concept.
The AADF has undertaken approximately a dozen programs in education and leadership, mainly testing programs in other countries. Although each one plays an important role, it is worth mentioning a few: Junior Achievement, Lead Albania, Clean Score, Master & Internship Program, and Tumo Tirana. In entrepreneurship, AADF developed two key programs, Tourism Improvement District (TID) and Business Improvement District (BID), now implemented in almost all major cities in Albania. Among them, it is worth mentioning the renovation of old bazaars in historical parts of Kruja, Korca, Gjirokastra—and yes, the New Bazaar in Avni Rustemi Square in Tirana, which has become the talk of the town and an internationally praised project. I must also mention the Republic Boulevard and Teodor Muzaka Square in Berat, which greatly enhanced the city and made it a must-see for visitors. The next time you are in one of these cities, check them out; you will be pleasantly surprised with the work done by the Foundation. Note, however, that all of these projects were done in partnership with local and state government—both in terms of financing and management—with the AADF being a key facilitator. The Foundation's Cultural and Eco Tourism program focused on projects that will become a catalyst for change in managing cultural heritage and the development of tourism. The Foundation started with an integrated management plan for the World Heritage Site of Butrint, as one of Albania's most important sites—and the most difficult to implement. After many twists and turns and arduous work, the plan was implemented and will be used as a prototype for other cultural heritage and archeological sites, such as Durres Amphitheater Complex. I must mention that this project has caused a lot of controversy, and still is, because of the Foundation's role and how it was implemented. Frankly, the board was not presented with all the facts and documents in concerning this project, otherwise, we may have dwelled on it more deeply and perhaps acted differently. Lack of transparency and misconception played a role in it. Other AADF projects particularly worthy of mention include The Electronic Ticketing System, which has been implemented in several cultural heritage sites, including The "Marubi" National Museum of Photography, as well as others. Again, all of these projects were done in collaboration and partnership with government agencies.
Albania's people and its government are grateful for our contribution toward the country's development and have endowed us with their highest honors and accolades. The AADF and its board received similar praise and appreciation from USAID and other branches of government. Although it is not in my nature to brag, I feel obliged to outline our success for the benefit of members of the Albanian diaspora in the United States, because by design our community knows very little about the Fund and the Foundation. I would like to thank the Albanian diaspora in the United States because without its persistent lobbying in Washington, Albania would likely not have been enriched with this assistance from the United States.
Now a few words about my abrupt departure from the Foundation after 25 years of loyal service. Although it is normal and expected that one would eventually leave after so many years of service, my departure was not normal and is frankly quite dishonorable for those who brought it on. The key person to blame most is the chairman, Michael Granoff, but also responsible are some of the board members who allowed this to happen. From the beginning, I always maintained a friendly and businesslike relationship with the chairman. I praised him in the community, both in the United States and in Albania, to which many people would attest. But because experience has shown that power corrupts, I make a conscious effort not to develop close relationships with people in power. In discussion, Michael treated me with respect and many times thanked me for my contributions—particularly for my efficacy in chairing the Audit Committee; however, this courtesy did not last toward the end. Michael tried to gradually minimize my visible contributions and limit my visibility, which the two co-CEOs, Martin Mata and Aleksander Sarapulli, noticed and questioned me about. That being said, knowing Michael's "all about Michael" personality, I did not pay much attention to the CEOs' concerns and continued to do my job.
From the time he became chairperson, I have seen Michael increasingly hold himself in a higher regard than the other members—requiring special treatment, such as presidential suites at hotels and private cars, and throwing around his perceived power in Washington—in order to appear as an omnipotent VIP and "power player." In my experience, Albanians often fall for this type of act—especially if the person is American. Many political figures in Tirana used Michael to advance their political standing, and he used them to satisfy his ego. Some board members were not pleased with his close ties to certain political leaders—but Michael effectively exercised his role as chairperson, so no one challenged him. As time passed and some of the original board members left, his attitude continued to change, becoming more authoritarian—as if the Fund was his own personal organization. His smooth-but-conniving talk was almost like hypnosis, numbing the consciences of most board members—especially those newly appointed.
Certain events prompted Michael and I to have one-on-one discussions about minor concerns. One such case happened one evening in Tirana with the families of our staff. I wanted to thank them for contributions they were indirectly making to the Fund and addressed them in Albanian. According to Michael, the staff did not like that I spoke in Albanian because that took away the importance of the AAEF being an American fund. He also claimed that the staff thought I was being disrespectful to them and the co-CEOs—which I find complete nonsense. While Dominick Scaglione and I were liked and admired by most, so was Michael. Another instance concerned complaints received in letters from individuals in Albania and the United States about the way the Foundation conducted business. Michael thought I had something to do with those complaints, because I am known in the community and know the individuals. Those letters were mentioned at board meetings, but they were never distributed to the board and were treated as irrelevant nuisances, so I still do not know what was written in them. At the time, I stated that any letter addressed to the board should be treated with due respect and distributed to all the members. Then the board could have decided what type of response should be made, instead of simply declaring them irrelevant.
The final exchange that may have led to my departure happened on December 9, 2021, in New York City—which was also the last board meeting for the year, and thus an important meeting for reflecting on our achievements and charting the course for the coming year. At the meeting, I made several comments and suggestions which were taken into consideration and not opposed by anyone. By all measures, it was a good meeting, which was confirmed by a follow-up e-mail from the chairman, in which he thanked us for a "very productive board meeting" and wished us a happy New Year. I replied to his e-mail by thanking him for his compliments and encouraging words. For the sake of transparency, I will quote the relevant portion of my e-mail:
"Thank you, Michael, for your compliments and encouraging words. Certainly, it was nice to see everyone in person after such a long period. Although we successfully held our quarterly meetings via Zoom, it's not the same as in person. Everything you said about our meeting and our success is true and made me think why this meeting was different and, in my opinion, more successful than the others. I believe one of the reasons was because we spoke frankly about topics that we discussed and respected everyone's point of view.
Now regarding our success, again I agree with what you said but, in my opinion, it is equally important to self-critique our own success; otherwise, we risk being blindsided and hence allowing success to become our biggest enemy. Yes, everyone prefers success over failure, and it is fun to brag about it, but be mindful that our past and current success could become the thing that holds us back from future success. One of the adverse sides of success is that it may tempt us to settle inside and keep us from taking risks. We discussed yesterday about allocating part of AADF capital (reserves) that is relatively safely invested in certain funds and generating relatively good passive income. Nothing is wrong with that but is that the best way of unitizing our resources to help people of Albania and meet our objectives set by USAID? In my opinion, the answer is "NO." It would be better to allocate a portion of our capital to invest in targeted projects that benefit the whole population and also become a catalyst for transformation of various sectors of the Albanian economy. We should not allow our available resources to become a killer of our tenacity and innovation. There is a saying: If you have not failed in a while, you are probably playing it too safe and too small. To the contrary, we should utilize our resources to generate even more resources while at the same time meeting our mission objectives and also addressing the most critical needs of the Albanian society. I believe this is also the mission objective of USAID, that our work should become a catalyst for FDI in Albania. Out of thirty-six projects that AADF has undertaken, only two have been in collaboration with other foreign contributors or investors.
What bothers me most is that after thirty years of democracy, Albania is hardly a democratic country, and its leadership is…. Notwithstanding, most of our AADF projects whose targeted beneficiaries are the citizens of Albania are also, directly, or indirectly benefiting the government and its ministries. Thirty out of thirty-six projects are fully funded by AADF, thus our investments and our close cooperation with government may make us look like we are supporters of…government. I believe we should reexamine our strategy whether this is the best way forward or should we come up with a new strategy, mindful of course that the Foundation activities will always require the cooperation of government in one way or another."
The last paragraph of my e-mail was addressed to Michael personally. In retrospect, while I agree that my words were perhaps quite harsh and should not be said in normal circumstances, I saw that the ship was going in the wrong direction. I believe these words had to be said because no one else on the board dared to say anything controversial. What I said was not intended to offend him but, with all due respect, to help our board function better:
"Now, with all due respect, a couple of words about you and your leadership style. You are a charismatic leader who poses many leadership qualities which, without a doubt, have contributed to our success; however, if I have to be honest with you, you are not without some faults. Based upon your continually displayed behavior, you demonstrated that you are self-centered in the way that you appear to think no one but you can steer the ship and patronizing in the way that while appearing kind and helpful to others, internally feeling superior to even your colleagues, hence always requiring preferential treatment—and if I may also add, a trace of dictatorship, as well. While the line between leadership and dictatorship is a fine one, the difference is in the style and approach of how you deal with others. This trait may be more specific of how you have treated me and dealt with me specifically. I hope you will take my comments in stride, because what I said is without any ulterior motive, that's just me—always honest and straightforward. Moreover, I am much older than you and, according to Albanian tradition, that gives me the right to criticize."
In addition to what is summarized in my above e-mail to Michael and the other board members, I also suggested that we should have a company outing for a brainstorming session—a standard practice in the United States. Brainstorming is a proven technique that business professionals use to generate new and unique ideas and to solve problems. Again, for the sake of transparency, here is actual outline of what I proposed:
"Company Outing – Brainstorming Session
o Board Consideration: 1. Committees, 2. Tenure, 3. Succession Planning
o AADF Business: 1. Reassess Mission Objectives, 2. Analyze and Critique Results to Date, 3. Reassess Country Political and Economic Situation, 4. Need for Community Input and Feedback
o Brainstorming Principles: 1. Quantity over Quality, 2. Withhold Criticism, 3. Welcome "Crazy" Ideas, 4. Combine, Refine, and Improve Ideas"
Apparently, this did not sit well with the chairman and some of the board members. The chairman did not have the courtesy to contact me directly, either by e-mail or phone, to discuss the matter. Instead, he had Ron Cami, a fellow Albanian-American board member—someone with whom I had worked for eight years at another organization, for whom I had the utmost respect and had recommended him to join our board—arrange a conference call with myself and another board member, present mostly as a witness. To paraphrase what he said on the call, he suggested that I had become too controversial and that it was the wish of the chairman and the board that I resign. If I did that, I would receive recognition and accolades for my past service and my name would be listed with the other emeritus board members. If I did not agree, the board would vote me out. I must admit that caught me completely by surprise. No one threatens a proud and righteous Albanian—not even another Albanian—so I did not agree. I suggested to instead allow for a cooling-off period and to discuss the matter at the next board meeting; however, it seems he had a clear mandate and did not want to disappoint. He followed up this exchange with another e-mail—which I did not answer—giving me a deadline to resign. I later received an e-mail from the Foundation's attorney informing me that the board had voted me out. I was thinking about what prompted Ron to undertake this disgraceful mission initiated by the chairman instead of standing up for me and my rights. Perhaps he envisioned himself as the chairman of the Foundation one day—and that he believed I might be standing in his way. I was not very surprised about the other board members; no one dares to disagree with Michael. To quote Desmond Tutu "If you are neutral in situations of injustice, you've chosen the side of the oppressor."
I am loathe to spell this out, but I feel that I must set the record straight, presenting the facts as they are and letting the readers render their own judgment. I believe no one would find fault with the suggestions I made at the last board meeting, which I outlined in my follow-up e-mail. We always boasted about following best practices, so all my recommendations were just that—best business practices. I also believe no one would fault my suggestion to analyze whether what we were doing was optimal. I wanted to know if we were doing our best to use our resources to help the Albanian people and meet our objectives set by USAID; in my opinion, the answer was "no." That is why I suggested it would be better to allocate a portion of our capital to invest in targeted projects that would benefit the whole population and become catalysts for transformation of various sectors of the Albanian economy. In fact, when we established the Foundation, we planned to have two separate divisions: The first was intended to do what the Foundation is doing now, and the second was intended to invest in projects similar to those that AAEF did—primarily acting as a facilitator for foreign direct investments (FDI). The Foundation has the capital, the know-how, and the trained staff to do that kind of business, as well as a relationship of trust with the government that would allow the Foundation to act as a conduit between the government and foreign investors. By investing some of its excess capital in for-profit ventures, the Foundation would generate more resources, simultaneously meeting its mission objectives, and helping develop the Albanian economy to address the most critical societal needs. I believe it is also the mission objective of USAID that Foundation work should become a catalyst for FDI in Albania. Out of thirty-six projects that AADF has undertaken, only two have been in collaboration with other foreign contributors or investors. These are not comments or suggestions for which one should be punished, but I am neither the first nor the last person in the world to pay the consequences for speaking up.
I must also point out that contributing to my ouster are the two co-CEOs of the Foundation. From the very beginning when I was the only Albanian-American board member at the AAEF and subsequently at the AADF, I felt it was my added responsibility to protect the interests of Albania and its people, as well as to prepare our staff to replace expatriates we were hiring from the United States who were not doing such a great job—and frankly did not seem to care much about Albania. When the last expatriate was abruptly let go, there was a discussion on the board of how to fill the vacuum until another expatriate was hired. Some suggestions were made—including sending one of our board members to Albania to serve as interim CEO, which I strongly opposed. It is my experience that such arrangements do not work well. A few of us board members suggested we give this opportunity to two senior officers, observing them closely for a six-month trial period. Thus, the two were appointed as co-CEOs—positions they hold to this day. With support they received from the board, they learned the ropes quickly and did a better job than any previous CEO. I was so proud of them; their becoming such great co-CEOs ranked as high an achievement for me as any other project. Over time, they put together an ambitious and hard-working group of employees who made me proud any time they made a presentation to the board. Through years of working together, I developed a genuine friendship with the two co-CEOs. But it appears the chairman looked at the situation with suspicion, which surfaced when I was addressing an apparent conflict clearly within my responsibilities as Audit Committee chairman. To challenge my authority, the board chairman unfairly interfered. I do not know the extent to which the two co-CEOs played in this, but I can say only that they could have avoided this incident. Their success seemed to have gone to their heads a bit; lately, they began to act as if they know everything and make sure they demonstrate their extreme loyalty to Michael. While they always were polite to the other board members, they treated them as irrelevant. In my opinion, it was quite apparent that their attitudes became of serving the master, something that Albanians are known for, especially when the master is a foreigner. Financially motivated greed may have also played a role. Although their compensation packages started quite generous by any measure, they wanted more, and being close to the chairman, they felt they could best achieve that objective. I was not opposed to these two Albanians—working for an Albanian not-for-profit organization—being compensated at the same level as the expatriates; however, going above that was simply excessive to me. According to a Salaryexplorer survey, monthly salaries in the fundraising and not-for-profit sectors in Albania range from Lek 29,300 ($263) to Lek 143,000 ($1,283)—with the average salary being Lek 60,900 ($546). The co-CEOs' salaries were far above those in this survey, which by itself did not bother me; however, theirs exceeded the average in the United States, which I consider greedy.
Furthermore, as I reflect on my own actions and statements—both publicly and to my fellow board members—I think there may be other factors that contributed to my removal. Although I am largely apolitical, I am a registered Republican. As such, my political views tend to be more conservative, but I always vote my conscience—not my party. Because of my concerns about events in the United States and Albania, at times I may have been overly critical in my comments on social media and in private conversations—including exchanges I had with fellow board members. While life in general has improved greatly in Albania, corruption has become prevalent, hampering the evolution of a truly democratic society. The country is mostly ruled by the same political elite it has had since the collapse of communism. Through a monopoly of political power, those elite control the economy as well as the legal system. Consequently, Albania's economy remains highly undeveloped, and a large segment of the population is impoverished. The country has enough resources to care for everybody, but it cannot sustain the selfish, greedy, and corrupted. These economic problems have given rise to a huge emigration surge of able citizens—mostly the young. Today, more than one third of Albanian citizens live abroad, and most of them will never return. These are troubling facts that should concern every Albanian who genuinely cares for the country. Given this reality, I suggested we rethink our investment strategy.
I was also overtly critical of the behavior of the United States' ambassadors to Albania—especially the current ambassador (Yuri Kim), who I believe has done the country tremendous damage with an approach that has resulted in a political impasse. While I commend her efforts to fight corruption and to bring about the rule of law by strengthening the legal system, the way she went about it was misguided and unacceptable. Albanians consider the United States its main ally and have the utmost respect for the country and its government officials, making it simpler for any ambassador to effectively exercise his or her diplomatic responsibilities. Ambassadors have a wide range of obligations to meet the needs of their home country while keeping a positive relationship with the country where they are assigned. Ambassadors should not get involved in managing the internal affairs or political parties of the countries in which they are guests; however, this ambassador created many animosities, inciting a split within the country's main opposition party and seriously impairing its ability to bring about the desired change in government. Albanians do not like to criticize anything American, but many prominent citizens of Albania are repelled by the ambassador's actions. The same sentiment is felt even among the Albanian-American diaspora in the United States; in fact, even a former United States government official, Frank Shkreli, former Chief of the Albanian Service and Director of VOA's European Division and others have written about this issue. I believe Ms. Kim's actions reflect her style and personal conviction—not the policy of the State Department and the president of the United States.
The corrupt system cannot be changed by taking the side of one group that is corrupted against the other group, as the ambassador is promulgating. For an effective, nonviolent transformation, a multi-prong approach is needed—including a strong legal system with an end to impunity, reform measures for both public administration and finance management, and the promotion of transparency and access to information, which empower citizens to act. It is the natural right of a country's citizens to alter or abolish a government that has become destructive and to institute a new one. For example, here is what is stated in Declaration of Independence of the United States:
"We hold these Truths to be self-evident, that all Men are … endowed by their Creator with certain unalienable Rights…. That to secure these Rights, Governments are instituted among Men…. That whenever any Form of Government becomes destructive of these Ends, it is the Right of the People to alter or to abolish it, and to institute new Government, laying its Foundation on such Principles, and organizing its Powers in such Form, as to them shall seem most likely to affect their Safety and Happiness.…" Declaration of Independence (1776).
Historically, such changes in government have been achieved one of two ways: peacefully, or by force. Force and violence should be avoided under any circumstance, which is why many countries—including the United States—have enacted laws that prevent advocating the overthrow of government by force or violence. Albanian people are perfectly capable of lawfully bringing about fundamental government change peacefully if they are allowed to exercise their basic rights to vote in a fair and transparent process; however, if the voting system has also become corrupt, the citizens have another right: They can call for constitutional convention directly—without government interference.
In concluding this article about my 25-year journey with the AAEF, the ABA, and the AADF, I would like to make some suggestions to the citizens of Albania and to the Albanian-American diaspora in the United States:
Greater Transparency: The AAEF repatriated $15 million of the $30 million that was granted to Albania; therefore, the Foundation's capital is comprised mostly of profits earned in Albania, making it Albanian-sourced money. This is not to downplay the importance of the United States' assistance in endowing Albania with this grant and making sure the funds are invested for the purpose intended. The system of oversight that currently exists should be maintained; however, I believe both Albania and the diaspora should share in this oversight process—because it is their money as well—and not let the Foundation operate as an unquestioned entity. One way of achieving this additional oversight would be to establish an advisory board. For years, I have recommended that the Foundation should do this to enhance transparency of operations and obtain direct input from citizens. The ideal board members would be prominent citizens and experts in the fields in which the Foundation is engaged and also serve as a pool for future AADF Albanian board members. The advisory board would be self-governed and function independently, meeting as often as they deemed necessary. They would consider AADF activities, analyze Albania's economic needs, and make recommendations to the regular board. The advisory board would also meet annually with the regular board in Tirana to share their recommendations but would not have the right to vote. I am certain that much of the criticism directed at the Foundation from prominent members of the cultural heritage preservation community would have been addressed by establishing such an advisory board. Moreover, perhaps even the Foundation would have acted differently?
Tenure: Notwithstanding the fact that both the AAEF and the AADF have performed extremely well—primarily due to governance by a professional board and its chairman—the USAID should demand that the board implement best practices in how it conducts itself. The board must use committees more productively and should be allowed to exercise its responsibilities in substance—not just in form. As previously mentioned, the only committee that functioned as expected was the audit committee I chaired. Moving forward, the Foundation should implement tenures with respect to committee chairs, including for chairperson of the board. There is no doubt that Michael Granoff has been an effective chairperson, but that is not a good enough reason to stay at the helm for over 22 years. There is overwhelming empirical and academic research that demonstrates if someone holds on to power for a long time, they become complacent and autocratic, adversely affecting the organization and hampering the development of new ideas. The chairperson is responsible for leading the board and focusing it on strategic matters, overseeing the entity's business, and setting high governance standards—playing a pivotal role in fostering the effectiveness of the board and individual directors both inside and outside the board room. While the board chairperson is a leader for the rest of the board, he is also a peer. The board chair manages board business and activities but does not manage the board itself. Notwithstanding Michael's effectiveness, every original board member could have likewise filled his position—perhaps with even better results. My point is that the Foundation must adhere to best practices in every aspect—especially in Albania, where power grabbing, dictatorship, and a lack of tenures in key political positions has had devastating results: obstructing the country's evolution as a democratic society, hampering economic development, and allowing corruption and illegal business to flourish.
Allocation of Resources: While every project undertaken by the Foundation has had a positive impact, I believe the Foundation can do better at allocating its resources to both serve the needs of the country and to have a greater impact on society as a whole. The Foundation should not let the human capital and the know-how built through implementation and AAEF projects go to waste. Today, there is a greater need for similar projects, which would bring FDI to Albania—where the AADF can play a vital role by providing local expertise and serving as a conduit between the investors and the government. This would tremendously help the Albanian economy, which is stuck in its infancy without consolidation, a market network, and clear direction.
Research and Development: Albanians need to rediscover themselves and write their own history, which was in the past written by others and greatly distorted to fit others' narratives and interests. "If you don't know where you've come from, you don't know where you're going" is an old saying. Every Albanian should have respect for the past, be a person of the moment, and go forward with confidence and self-respect. Unfortunately, that confidence still seems to be lacking, reflected in their reverence for outsiders—bowing to them as if they were still under occupation. This self-confidence can be regained only through education, creativity, and by making a positive impact in the international community. Albanians are naturally a brave but peace-loving people, smart and capable of achieving any goal they set for themselves—clearly demonstrated by the great successes of many of those who left the country and now live around the world. The problem is that Albania has not achieved the economic or political development necessary to provide opportunities for every Albanian to achieve their potential. Hence, there is a great need for academic research focused on better understanding Albania's past, how to manage its present, and how to build it a better future. This type of research—which encompasses systematic collection, interpretation, and evaluation of data in a planned manner—can be done best through graduate and PhD programs offered at top research universities in the United States, Europe, and elsewhere. The AADF has made a relatively small investment in master's degree programs, namely in areas deemed crucial for the Albanian economy. I believe this program should be expanded to include PhD and scientific research programs, as well as establishing various thinktanks domestically and abroad to generate policy-oriented research, analysis, and advice on domestic and international engagement. These steps would enable policymakers and the public to make informed decisions about these issues. This is why a multi-prong and concentrated effort is required to help Albania make a paradigm shift from the past into the future—a process in which the AADF can play a pivotal role.
Although my exit was quite unexpected, I hold no animosity against AADF and wish the Foundation a continued success. I will do my best to support its mission objectives and to use my influence for the best outcome in every endeavor to help the people of Albania. Going forward, I will redirect my free time to other worthwhile causes where I can make the greatest impact.
Long live the friendship between the United States and Albania!