Rafaela Prifti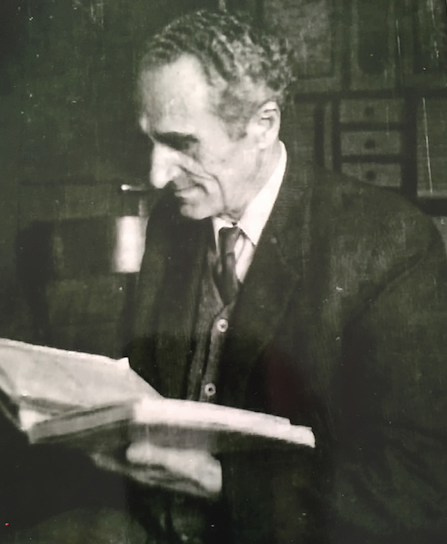 On the 112th birth anniversary of Hekuran Zhiti, let's take a moment to let him know he is appreciated and remembered but most of all embraced. Should you wish to pick up one of his poems, read or watch one of his comedies or dig in his acting abilities on stage, you would be well served by reading  Perqafimi i Dy Kundershtareve ( The Two Rivals Embrace ). The poem calls for reconciliation to bring an end to a fratricidal war ravishing through Albanians engaged in the global military conflict from 1939 to 1945.
During World War II Hekuran Zhiti had close friendships on both sides: the nationalist and communist forces and was devastated by the enormous loss of human lives. The division was deeply personal. His older brother joined the nationalist movement to protect the homeland while his younger brother was one of the young men who had promptly answered the call to join the Albanian partisan fighters. While his beliefs did not align with the communist ideas, Hekuran Zhiti moved in the same circles as Albanian diplomat, writer and politician Mithat Frasheri who prioritized the national ideals. Contrary to the satirical poem Epopeja e Ballit Kombetar (1944) that diminishes the leaders of the National Front through parody, Hekuran Zhiti's creation, which is published around the same time, Perqafimi i Dy Kundershtareve (The Two Rivals Embrace) draws attention away from politics and ideology lamenting the nation's woes. Two opposing views of the same event. One politically charged, the other humane. And politics won.
In 1946 being labeled "a pacifist", the poet who mourned the dead from either side with equal compassion as Albanians, was thrown in jail for a year and a half. What shaped him was his upbringing and his education, what solidified his views was his love of the nation that he placed over any ideology. This is the embrace of Hekuran Zhiti, as relevant in the political landscape of Albania today as it was when he wrote the poem, that arguably defines his legacy.     
Hekuran Zhiti was born on April 13, 1911 in Milova, Skrapar by the Tomorr mountain. The family home is no longer there. His father Hasan, an Albanian patriot of Bektashi faith, was ardent in the education of his three sons, Maksut, Hekuran and Ahmet. Thanks to a state scholarship, Hekuran attended a top school for educators Shkolla Normale e Elbasanit in 1927. His gift for poetry writing and theater were carefully nurtured and with the encouragement of renowned teachers of this institution, Hekuran formed a theater group. At times he would write and be the leading role on the school productions paving the way for his later, short, yet successful career as an actor.
As part of the education curriculum of the vocational Elbasan School, students went on cross country trips. Hekuran's class trip included Shkodra, the birthplace of Father Gjergj Fishta, a brilliant political figure and man of cloth of the Franciscan order. Meeting him in person had such an impression on the young Hekuran, as he later describes in his memoirs. The author of thirty-seven literary publications, Father Gjergj Fishta is known as "the Albanian Homer". The most astounding work in Albanian literature is Lahuta e Malcis', Shkodra, 1937 (The Highland Lute) Hekuran's older brother Maksut Zhiti, an educator and graduate of the same school had his own copy of the book where on the inside he signed his name in beautiful handwriting. It is a prized possession of the Zhiti family with double layers of significance and one that would put their lives in danger had it been discovered to be at home at the time. "Gjergj Fishta's book was banned by Albania's communists. As if that wasn't enough, it had the signature of my uncle who had been arrested and eliminated without trace by the authorities," says Hekuran's son, Visar Zhiti, Albanian writer, poet, translator, journalist, and diplomat.
Upon graduation Hekuran worked as a teacher in Roskovec of Fier and Pogon of Gjirokaster where he taught for several years. Later in Berat, he was a fixture in the city's art scene. Hekuran was writing poetry and dozens of sketches and plays where he was often the leading role. At the end of Word War II Hekuran had the opportunity to flee Albania as did hundreds of Albanians who had embraced a national driven platform. He did not leave. He saw himself in that "embrace" that he described in the poem and he stayed in Albania perhaps refusing to believe the cruelty and vengeance that communists were capable of and would unleash onto the opponents. His brother Maksut dies in custody of the police believed to have been tortured. His remains have not been found. After being released from prison in Berat, Hekuran moves his family to Durres. He is not allowed to work on the docks and is assigned to do road maintenance for the city. With the help of some reasonable individuals in the administration, he starts teaching in Karbunare of Lushnja to support his wife and four children. Since his life passion was the stage, he starts artistic groups in the village that soon bring attention to him and he is called to found the professional Variety Show (Estrada) of the city. Hekurani became one of the founders of the Lushnja troupe. He worked as a professional actor from its inception in 1961, until he was forced to retire in the 1970s as another wave of restrictions hits the artists and intellectuals. He remained vulnerable as his biography was "stained" and his record followed him wherever he went. Although he continued to write sketches and skids for the professional troupe, Hekuran was not allowed to publish any of his serious work.
The imprisonment of his son, Visar, was a very hard blow for Hekuran.  He passed away on March 1989. The town where he had brought laughter through comedies and skits and where he helped found a center of professional comic actors could not go to pay respects at his funeral. Since the authorities considered him an enemy, going to the funeral was a risky business, as some witnesses recall. So Hekuran Zhiti took the embrace with him. Visar says that today his father has his rightful place in the Albanian literature. Despite the deprivation and affliction brought upon him, the broad genre of comedy is his father's favorite. A collection including seven of his comedies and a play has been released by Eugen Publishing House in Albania. Whether through publications, street names and titles, Hekuran Zhiti is honored and memorized in various ways.  Yet it's his embrace of loving the nation that deserves the attention of Albanian's today.