By Merita B. McCormack*
Arlington, VA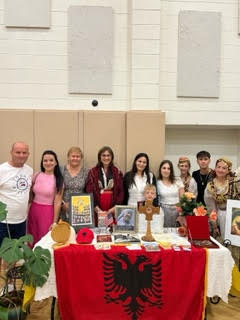 On Friday, August 25, 2023 , the Office of Multicultural Ministry in the Catholic Diocese of Arlington organized the Annual Multicultural Communities Mass and other events.
It began with a Procession of Marian Images from all over the world accompanied by an outstanding musical prelude all focused on Blessed Mother Mary. The musicians and choir were all volunteers from multiethnic groups within the diocese of Arlington.
Our Albanian community participated in the Procession with two Marian images.
One was an image of Our Lady of Good Counsel and the other was the Image of Our Lady of Shkodra with images of  38 Martyrs who were recently beatified by the Pope.
Our Lady of Good Counsel is the patroness of Albanians.
Raina and Parid Kola, Tirana-born young sister and brother, currently living in  Arlington City,  accompanied by their mother Ehsen,  dressed all in Albanian national costumes, processed through the church holding the images.
The Mass was celebrated by His Excellency Most Reverend Michael Burbidge, Bishop of Arlington Diocese and con-celebrated by priests who serve various ethnic parishes in the diocese.
Bishop Burbidge was the homilist. His homily was as always, uplifting and joyful! The Diocese of Arlington will celebrate the 50th Anniversary of its founding in 2024 and it has spread its celebrations over three years. The current year, 2023 is the second one and its theme is "Rejoice".
That was the theme of the homily as well.
After the Heavenly Mass,  there was a musical performance , a reception and fellowship, while enjoying some delicious traditional food from around the world! .
Albanian nation was well represented. Dr. Zana Sukaj, founder and director of Mother  Teresa  center,  had brought Albanian traditional  food and the Coli family brought a lot of snacks and deserts.
Mrs. Ehsen Zajmi a renowned violinist who has served as such in Albanian RTV orchestra, performed few Albanian Marian hymns (Si Maria, Zoja e Shkodrës) and some Albanian  instrumental folk music.
An Albanian booth was well displayed and visited by many people. They were acquainted with our history, culture and were provided with literature related to Albania.
The relics of martyrs were present throughout and venerated.
Bishop Burbidge visited our table and remarked how nice our table was.
We are grateful to the Bishop, to Ms. Bridget Wilson , our diocesan director, her assistant Michelle Ann, all friends who attended, processed , performed and provided food.
Most of all thank you for your presence as brothers and sisters in blood and in God.
God bless you all! 🙏❤️💐🇦🇱
The author is the co-founder and leader or the Albanian Community in the diocese of Arlington. This is a pro bono work.