Organized by the prestigious Bartolucci Foundation, sponsored by the Albanian Diaspora Business Network (ADBN), and supported by Illyria newspaper
Ruben Avxhiu
A concert for the ages, a major cultural and artistic event, celebrating "Kosova's tenacity, and affirmation of inclusion and Peace", as Christopher Hyland describes it, is coming to Rome on June 21st. A number of exclusive events in Vatican and Rome, including a Papal Audience, will precede the Concert. (See the posters below for more information.) Albin Kurti, Prime Minister of Kosova, and His Eminence Cardinal Dominique Mamberti, Prefect of The Apostolic Signatura, will be among the luminaries who will honor the event with their presence.
Billed as The Kosova Hyland Peace Concert, it will be organized by the prestigious Bartolucci Foundation and sponsored by the Albanian Diaspora Business Network (ADBN). It will honor Kosova and all the individuals and organizations that seek peace in the region and in the world. Christopher Hyland, Naim Dedushaj, Hazis Vardar, and Edmond Hajrizi are serving as co-chairs in the executive committee of the event that is spearheading the preparatory work. Hazir Vardar and Muharem Saliu are the main Patrons of the Concert. The Office of the Prime Minister of Kosova has joined as a sponsor as well. The executive committee includes also Vehbi Bajrami, publisher of Illyria and Elio Ahmetaj.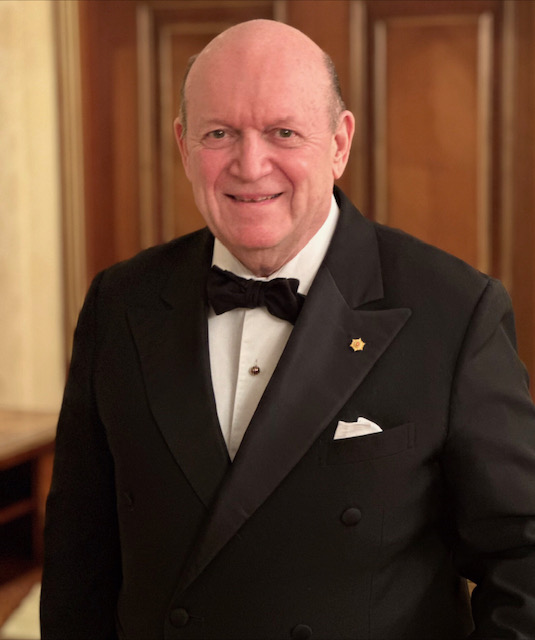 Illyria newspaper is proud to support this historic event that will take place in the famous Pantheon in Rome. The Concert is aptly named after Christopher Hyland, whose fundamental role in helping Albanian-Americans make their case for Kosova in the early 1990s, pushed forward the cause of peace and freedom in the Balkans. Illyria newspaper was the first to bring back the memories of those difficult years and reveal Hyland's role to the younger generation. This paved the way for the belated by well-deserved recognition of Christopher Hyland's contribution for peace and reconciliation in the Balkans.
Hyland's work is not done, however. A few years ago, he commissioned composer Maestro Joseph Vella to author a Call to Peace, Peace Mass in Concert, and a Peace Fanfare and Anthem, which had its World Premiere in 2013, with subsequent performances at Manuel Theater, Saint Patrick's NYC, and most recently, in Prishtina, Kosova in celebration of that country's fifteenth year of independence, the youngest country in Europe.
There is a beautiful story behind this as well. As a schoolboy, Hyland told Maestro Arthur Fielder of the Boston Pops that, one day, when he grew up he would like to have a concert just like Mozart's, sustaining this aspiration for decades. Was that a wish or a promise?
"The Hyland Peace Concert in Prishtina, Kosova, was marked by such an incredible performance by the Kosova Philharmonic Orchestra," Christopher Hyland says that it led to the inception of this extraordinary initiative by The Albanian Diaspora Business Network envisioning a Kosova Hyland Peace Concert in a much grander settings of the famous Pantheon in Rome.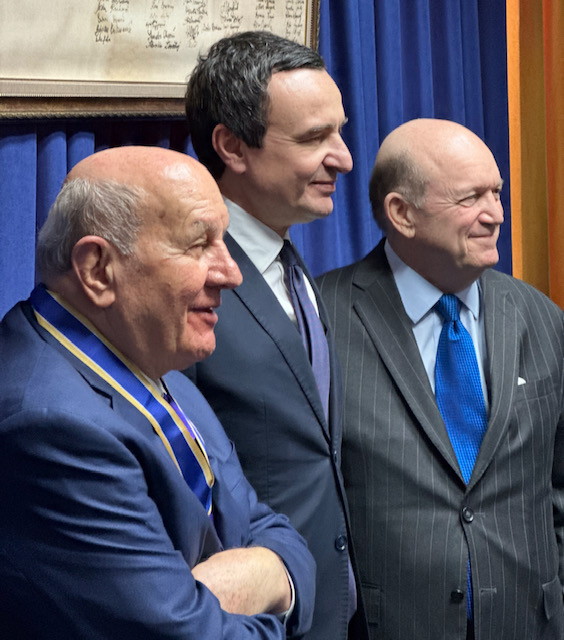 "I am honored that The Albanian Diaspora Business Network is sponsoring a Kosova HYLAND Peace Concert in Rome organized by the renowned Fondazione Bartolucci, which has distinguished members of the Vatican Curia on its boards, among them Cardinal Dominique Mamberti its Honorary President," Christopher Hyland told Illyria newspaper.
Cardinal Dominique Mamberti has served, until recently, also as Vatican Secretary in Charge of Relations with States.
"Kosova exudes diverse musical interests: super rock, traditional ballads, and my personal favorite Kosova bagpipes," Hyland says. "But on 21 June the arch of concerts that began with the Kosova Philharmonic performance of the Hyland Peace Concert in February will continue in Rome on the way to London and Washington, all made possible by the Albanian Diaspora Business Network and their friends' commitment to celebrating Kosova 's tenacity, and affirmation of inclusion and Peace. "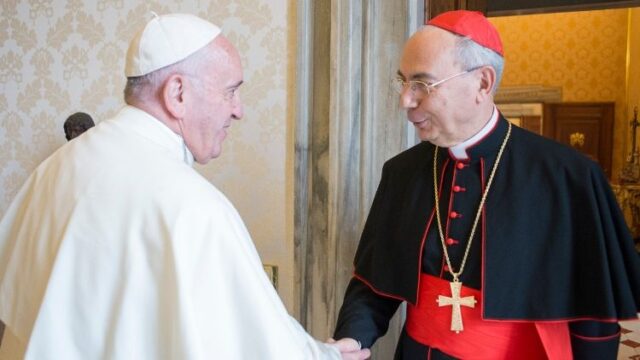 Several outstanding Kosova and Albanian singers will assure a remarkable performance of Maestro Joseph Vella's The Kosova Hyland Peace Concert in the Pantheon, "the World's most ionic dome," as Hyland puts it.
He feels that if Maestro Vella were still with us he would exalt in the talented artists who will, once again, give life to his compositions in the Pantheon.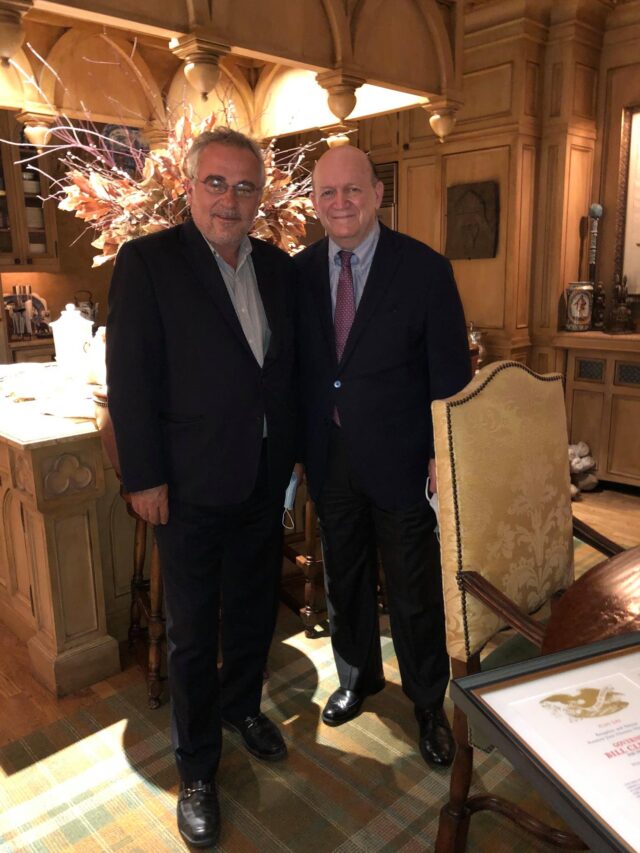 Christopher Hyland greeted Vehbi Bajrami and me, in his apartment in New York, while the COVID epidemic had waned a little but remained terribly threatening, on October 2020. That historic interview recalled the great journey of the early 1990s and his work in support of Kosova and later on of the peace process in Northern Island.
We felt that his contribution had not received the recognition that it deserved. The story and the interview in Illyria newspaper encouraged the revival of many forgotten memories and friendships. Since then, Hyland has been honored with the Order of the Knights of Skanderbeg by the President of Albania and the Order of Dr. Ibrahim Rugova, by the President of Kosova.
He was accompanied by The Albanian Diaspora Business Network in Kosova during the week of festivities on 15th anniversary of independence.
Hyland was particularly impressed by Mother Teresa Cathedral, "substantially designed by Kosova Founding President Ibrahim Rugova," as a monument "a world testimony to Kosova tenacity in building an inclusive, diverse society in Europe's youngest country."
He appreciated especially "the gestures of largess across diverse communities represented by the stain glass windows and mosaics of Mother Teresa Cathedral in Prishtina – several of them donated by Albanian-Americans of diverse faiths…"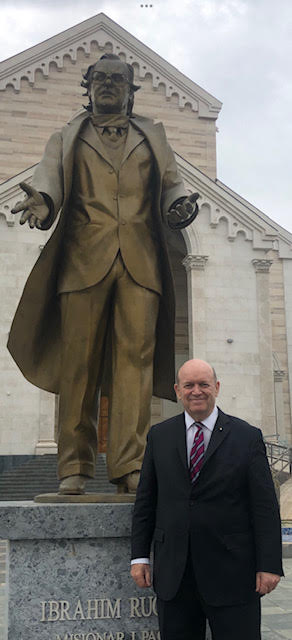 Now, as Hyland is overseeing the initiative of these wonderful concerts which appropriately bear his name, Illyria newspaper will continue to stand by him in this new journey.
"I am indebted to Illyria Publisher Vebi Barami for his support," he said. "The Albanian Diaspora Business Network membership and friends are funding an historic series of Rome and Vatican related events demonstrating leadership, much like I witnessed among Albanian Americans a generation ago."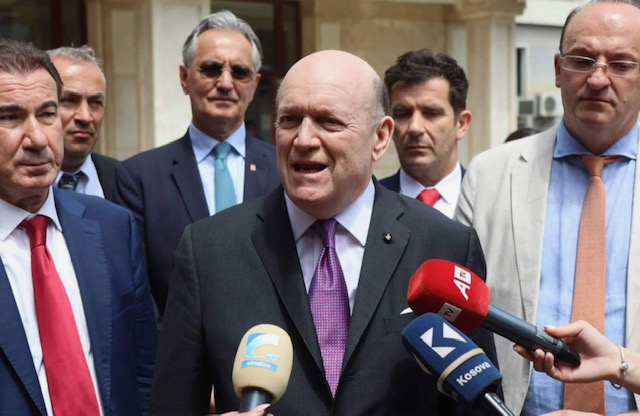 "Naim Dedushaj and Hazis Vardar have been persistent is assuring the success of ADBN Rome events." Hyland emphases. "Hazis is our first, standout Patron."
This is important. While admission to the Kosova Hyland Peace Mass Concert is free to the public on a first come basis, (should you wish to reserve your free seats, contact the organizers at [email protected]), donations will offer the opportunity to participate in some once-in-life-opportunity exclusive events. They are being planned in Rome and in the Vatican for a limited number of people, from 19 to 21 June, 2023 (For itinerary and information, again, contact [email protected])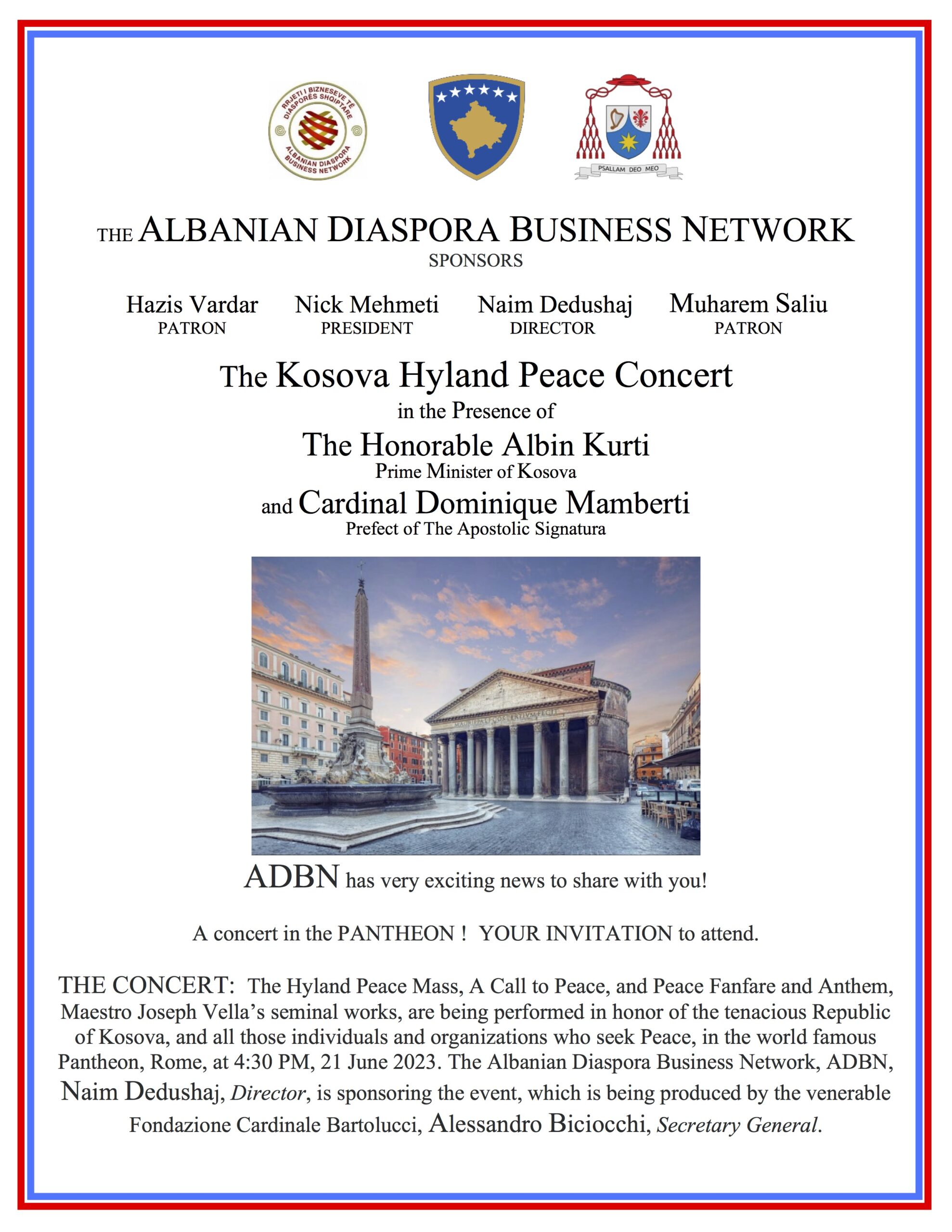 PER PERSON DONATION: 2, 000 euros per person (N.B. Includes Colonna Palace luncheon, Hunt Club dinner, a seat at the small Vatican concert, on a first come, first included basis, and a reserved seat at the UBT Hyland Center for Global Studies Conference on a place available basis. We are limited to approximately 80 people for lunch, dinner, the small Vatican concert, and the conference. Should space be not available at some of these events, there will be no refund)
Other Donation Categories: Donor 5, 000: Supporter 10, 000; Sponsor 15, 000; Patron 25, 000; Grand Patron 50, 000
All donations are to be sent by wire to Fondazione Bartolucci:
BANK: Fideuram
Account Name: Fondazione Cardinale Domenico Bartolucci
IBAN: IT58R0329601601000067323508
BIC SWIFT: FIBKITMMXXX
The ROME and VATICAN 19, 20, and 21 June, 2023 SCHEDULE OF EVENTS:
JUNE 19. The University For Business and Technology Hyland Center for Global Studies conference:
"A Balkans Commonwealth"; "Kosova Economic Development"; and "Skanderbeg and Mother Teresa"
JUNE 19. Dinner in an historic location
JUNE 20. Private guided tour of the Vatican Archive
JUNE 20. Private Concert of sacred music in the Vatican
JUNE 20. Dinner party at the prestigious Hunt Club (Black tie and tuxedo)
JUNE 21. Papal Audience in Saint Peter's Square
JUNE 21. Lunch at Colonna Palace (Business suit and tie)
JUNE 21. Kosova Hyland Peace Mass in Concert, Call to Peace, and Peace Fanfare and Hymn performed in the Pantheon in the presence of The Honorable Albin Kurti, Prime Minister of Kosova, and His Eminence Cardinal Dominque Mamberti, Prefect of The Apostolic Signatura.
CONDUCTOR
Michele Manganelli
Music Director and Maestro of The Opera di Santa Maria del Fiore's Cappella Musicale
Founded 1296 AD
Orchestra Sinfonica Romana International Opera Choir
Roberto Marini ORGANIST
Giovanni Mirabile CHOIR MASTER
Adelina Paloja Maria Tomassi Arta Jashari, SOPRANOS
Maria Ratkova Klodjan Kacani Paolo Ciavarelli Xhieldo Hyseni, respectively, ALTO, TENOR, BARITONE, BASS