Remarks by Altin Zaloshnja, a community leader and scholar, during the fundraising diner-gala, on the 555th anniversary of the death of George Kastrioti – Skanderbeg, national hero of Albania. The event was organized in Michigan, by the Gjergj Kastrioti Scholarship Foundation.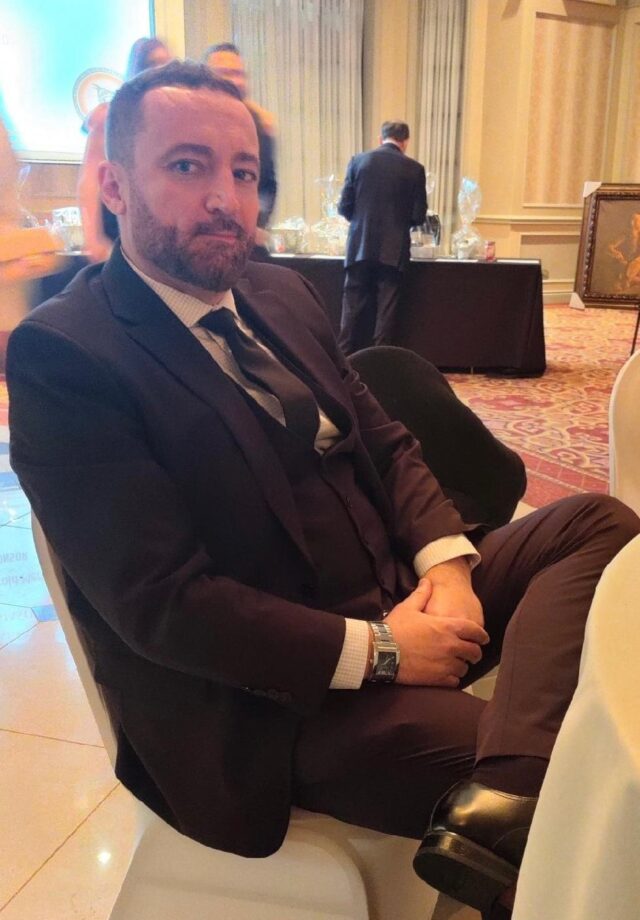 January 28, 2023
Good Evening,
Ladies and Gentleman,
My name is Altin Zaloshnja and the Board agreed that it would be both fitting and proper to say a few words, attempting to bridge the gathering tonight with our common history. About a week and a half ago, (January 17th, to be precise), there was this interesting anniversary number-wise, and that was the 555-th year, three fives in a row, since the passing of our national hero, George Kastrioti-Skanderbeg.
To us Albanians, the silhouette of this man mounted on the steed with the sword drawn, his sharp and distinguished facial features, the long beard meandering down the armor, that image we've memorized since our early childhood days, symbolizes one of the most recognized features of our national identity.
But beyond the whole mantra of the warrior-king, what is special and striking, transpires from Skanderbeg's willingness to fight for what he believed was right. He chose to do that, instead of a life spent in Ottoman luxury. Indeed, had Skanderbeg followed the path of self gratification, he'd have led a very comfortable life, suitable for his rank, based upon the premise of service to the almighty sultan.
But he refused that and instead, opted for the hard path and embarked on a back-breaking journey. The proverbial road less traveled for him was more than just a poetic wandering; it was the burden connected with the choice that comes when you do what is right for your land and your people.
We don't hear a lot about Skanderbeg's trials and tribulations, but there is this very telling story written by a diplomat to the Holy See, which I want to share with you tonight. When Skanderbeg lastly visited Rome, in the distant year 1466, the ambassador of Matua (Mantova), took note of him and described, I quote, "he looked like a poor man, coming in with a few horses. I understand he'll seek aid." We cannot exactly know what this ambassador's intention was (Giovanni Arrivabene was his name and obviously his words were not as welcoming as his last name) in making such a seemingly not so stellar depiction, nor do we know his capacity to understand what Skanderbeg had been going through in life. In all likelihood, he was a man who never experienced what it really meant to face the dreaded janissaries in the battlegrounds. Regardless and whatever the scope of this diplomat might have been, the account provides a vivid illustration of what is the cost of non-stop wars for a quarter of a century. And what it means to be at the heart of an almost never ending fight against the most powerful empire in the world.
Analyzing the recount, one can come to the conclusion that for Skanderbeg more than titles, domains, or possessions, the main goal was to leave behind a good name and a legacy that inspires. Needless to say, he fully accomplished that. To our nation then still in cradling stages, he passed down his symbols for use. The most venerated of them, the double-headed black eagle flag, re-discovered and made public by Faik Bej Koinca, personifies the Albanian unum. Second only to our beautiful language in the importance row, that banner is a focal and a rallying point for all Albanians whenever they live, all over the face of this earth.
And since we are at the Albanian flag, let's see how one of the most prominent of the American poets, Henry Wadsworth Longefellow describes the primordial flying of the banner over Kroia, in the epic poem titled Skanderbeg. He writes:
"Anon from the castle walls
The crescent banner falls
And the crowd beholds instead
Like a portent in the sky
Iskander's banner fly,
The black eagle with double head".
For a man who fought to protect and not to occupy, for an individual who was a warrior and not a saint, for a human who was humble and not pretentious, George Kastrioti, is as good of a national hero as they can ever come. His personal example offers us today, a blueprint for unifying around meaningful ideals, bigger than ourselves. For Skanderbeg comes with the innate capacity of being an Abrahamic figure to all Albanians, interlocking them with one-another, regardless of their walk of life, religion, or the part of the Albanian territories they come from. The hope is that someday, his descendants will be clear-minded enough to follow his example and leave behind their childish bickerings, recognize the vision he laid out for the country, and make the land he valiantly fought to preserve, united in one piece and prosperous.
Finally, coming back to the very reason for our gathering. The name given to this event strikes me as something more than just a coincidence. It looks like a smart, calculated and a heart-felt attempt to emphasize belonging. I don't think a better name could have been given to this fund and this gala-evening. So whoever came up with the noble idea of organizing this in the initial stages, and to those of you who are carrying on with this work today, all to a person, you undoubtedly deserve a round of applause.
For the rest of us the question stands valid, what can Kastrioti teach us, what can we learn from him in this day and age, what can we do to follow his example? Well, being here tonight and year after year when this gathering takes place it's a good first step, this simple dinner-contribution for supporting this fund. And if you feel the calling to add more, please do so, as many donors here have done. There will be a day when these students will make us proud. We might not be there in the labs and auditoriums to see it, but in the not-so-distant future, all of us will be glad to have contributed to such a noble cause.
Not intending to be dramatic here, but in the words of the gladiator, spoken in the namesake movie, he utters: "Brothers, what we do here today echoes in eternity." Find it in your heart, to help these people, to keep pressing ahead. Remember that our national hero had it way tougher than all of us.
Thank you for your time and have a wonderful continuation of this Gjergj Kastrioti evening.
The Gjergj Kastrioti Scholarship Fund is a 501(c)(3) non-profit organization founded in 1999 that provides scholarship support to Albanian-American youth in the State of Michigan as they pursue a college degree. Gjergj Kastrioti Scholars must attend four-year Michigan colleges and universities. To learn more: https://www.gksfund.org/