Post-Event Reflection
By Cafo Boga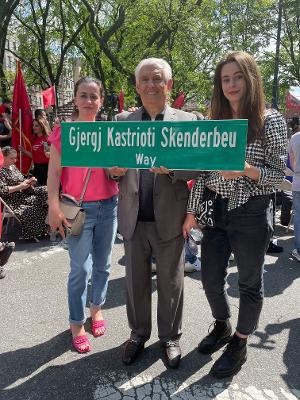 Just couple ago days ago on May 15th, the Albanian-American community gathered together in an organized ceremony, replete with Albanian flags and cultural music, to celebrate the co-naming of a street in the Little Albanian section of the Bronx to Gjergj Kastrioti Skënderbeu Way. Initiated by Former New York City Council Member Mark Gjonaj during his time in office and helped by many Albanian community organizations and volunteers, the long-awaited task was finally realized. This is the third street that takes the name of Albanian personalities, previously two other streets in the Bronx were co-named "Mother Teresa" and "Fan Noli" streets.
The ceremony was joined by New York City Mayor Eric Adams who proudly noted, "We're home to the largest Albanian community in America. They're small business owners, working families, and frontline workers who make our city vibrant. It is an honor to join them today in Little Albania to celebrate an Albanian national hero, Gjergj Kastrioti-Skënderbeu." Also participating in the ceremony were many other local politicians as well as Albanian Ambassador to the United Nations Ferit Hoxha as well as the Mayor of Tirana Erion Veliaj and Lulzim Krasniqi from the Consulate of Kosova, who read the messages of their respective Prime Ministers . Invited to take part in this celebration was an Arberesh group from Italy called "Shqiponjat Group Folklorico." Arberesh are also known as Albanians of Italy and represent an Albanian ethnolinguistic group concentrated in scattered villages of Southern Italy. They are the descendants of refugees who fled between the following of the Ottoman invasion and specially after the death of Gjergj Kastrioti-Skënderbeu. They fought the Ottomans and kept free not only Albania but prevented the Ottomans from conquering Europe. For more than 500 years, they managed to preserve their language and cultural heritage, which they proudly displayed at this event.
The first part of the program was concluded with the unveiling of the street sign "Gjergj Kastrioti Skënderbeu Way," located on the corner of Crescent Avenue and Adams Place. Following the unveiling was a cultural and entertainment program that included over 30 performers by diaspora artists and folklore groups, joined by more than three-dozen young girls and boys dressed in national costumes from all the Greater Albanian regions. The audience, estimated to have numbered in the thousands, were entertained for over three hours, while also tasting some Albanian treats and buying souvenirs.
By all accounts, this event was a huge success, as it is not easy to bring together the whole Albanian-American community in New York to support a single event. It must be said, however, that only the name of Gjergj Kastrioti-Skënderbeu, our national hero with international recognition, can unite Albanians everywhere, including the diaspora, to support an event of national importance without interference of any differences, including regional, political, or religious, that might exist. Another measure that attests to the success of this event is the direct financial support by Albanian-American community organizations and individuals that, according to the list of sponsors, amounted to over $150,000, not including vendors who paid directly for their street spots and hundreds of volunteers who contributed time and effort to make this occasion a historical event. So, the question must be asked, "How does the Albanian community benefit from events like this?" First and foremost, it brings an ever-growing, Albanian-American community together to display its national pride in a very organized and prominent manner. It causes local and national politicians to take notice that this community is growing in numbers and becoming too relevant to be ignored. It becomes a catalyst for the new generations of Albanian-American community members to be inspired and get involved in events ranging from cultural heritage to civic to political undertakings. It gives the Albanian-American community an opportunity to express its appreciation for the United States, its newfound beloved country, that opened its doors to thousands of Albanians escaping prosecution, wars, and economic hardship, and gave them freedom and opportunity to realize their utmost potential. It sends a strong message to countries in the Balkan region with indigenous Albanian populations living in lands of their ancestors who still cannot freely celebrate its cultural heritage and remember their national heroes, raise their national flag, and use the Albanian language as an official language. Meanwhile, here in America, Albanian-Americans are not only free, but they are encouraged to preserve their national identity and cultural heritage in the most celebrated ways.
The second question that must be raised refers to the drawbacks of this event, i.e., the co-naming of a street after a beloved Albanian national hero, Gjergj Kastrioti-Skënderbeu. In my opinion, it minimizes his importance. Gjergj Kastrioti-Skënderbeu has been recognized and honored from the time he successfully fought the Ottomans and ever since by many countries in Europe and the world. His statues are proudly displayed in some of the most recognized plazas and streets within cities throughout Europe. Albanians should be careful not to overuse his name for political and commercial purposes. Notwithstanding all the positives mentioned above, ask yourself this question, "Does his name belong on a little Bronx corner street sign?" Now, let's say something about street co-naming, which sounds as if it has the same importance as the official name but that is not the case, so don't try to Google it yet. Walking around the streets of New York neighborhoods one would notice that many streets carry two names: the name on the map, and the name of a person. Unless the name of the person happens to be of some prominent historical or cultural figure who lived and worked in New York City, one may wonder who that person is and what contributions he or she made to merit the honor. According to an article by Untapped New York,[1] "These names, often located on signs directly under their primary ones, honor a variety of individuals, groups or organizations who have made lasting impacts or have special significance to a community." The article further references Bob Marley Boulevard in Brooklyn, Joey Ramone Place in the East Village, and Gershwin Way on Broadway and West 58th Street. About one-fifth of honorary street names are dedicated to the victims of the September 11th tragedy. The article mentions that, according to the New York Times, retired city planner Gilbert Tauber compiled an unofficial master list of these honorary street names in New York City, totaling 1,672 of them. Tauber noted that there were six locations where the honorific names could not be found, namely they have somehow disappeared. According to an article by the CUNY Graduate School of Journalism,[2] they analyzed the aforementioned list of honorific street names and offer an interesting glimpse into naming trends. "The city has recognized a broad spectrum of New Yorkers—some famous, but many unknown beyond the bounds of their neighborhoods. Boulevards and ways, places and corners across the city offer testament to the city's firefighters, teachers, community volunteers and business owners. Compared to the city's historic street names, which tend to honor white men, these new street names reflect a much broader range of ethnicity and social class." The largest group of individuals honored are the fallen, making up about 30 percent of all co-named streets representing New Yorkers who died at the World Trade Center on September 11, 2001. Included in this group are also civilians who died tragically as a result of violence, illness, or accident. "The other major group of honorific streets bear the names of average men and women who made above-average contributions to their communities…27 percent named for people 'active in community' include individuals who volunteered with charities, fought for better schools, coached little league or generally did good in their neighborhoods. Many also served their communities as religious leaders, community board members or business owners."[3] Basically, each borough has its heroes. In naming honorific streets, Manhattan lived up to its reputation as the center of arts and culture. Queens is the most ethnically diverse borough, while the Bronx named a larger percentage after community activists, police officers, and firefighters.
In order for a street to have an honorific name, applications must be submitted to the Community
Board together with relevant documentation of the honoree. Once approved, the City Council must enact a bill showing that the street name has been authorized and must be signed by the mayor.According to Manhattan's Community Board,[4] the following are general guidelines of street co-naming:
"Prospective honorees must be deceased, and should have a minimum of 10 years community involvement and should have demonstrated an extraordinary and consistent voluntary commitment and dedication to the community, or who have contributed significantly to New York City or national life and have lived or otherwise are identified with this community in a substantial way. Exceptions may be made however for individuals who die under infamous circumstances of crime, accident, disease, social circumstance, military service or the like, or if the death itself leads to a greater awareness within society of the cause of death and a concerted effort to address that problem. The Board may also in its discretion, grant a naming where the proponent sets forth a rationale which, although not falling precisely within these guidelines, demonstrates extraordinary and highly acclaimed accomplishment or involvement linked to CB12M to such an extent that it meets the spirit of these guidelines."
Now that the truth regarding co-naming is unveiled, I will let the reader decide whether Albanian National Hero Gjergj Kastrioti-Skenderbeu belongs amongst almost 2,000 honored New Yorkers of all facets of life. My personal opinion is, no—he deserves a much better venue and respect.
Considering everything discussed herein, this is the other question that we must ask, "Is this event worth a quarter million dollars, including all the pro bono public contributions, or could these funds have been put to better use? Again, I will let the reader make his/her own opinion, but my personal take is that, no—the Albanian-American community is in its infancy when it comes to taking an active role in American politics, business, and civic associations with limited resources that should be carefully managed to derive the maximum outcome. Having said that, myself and my organization were one of the Gold Sponsors of this event, because I believe that the community must stand together and that Mark Gjonaj, whom I consider a friend and part of my extended family, must be recognized for his energy and drive to help the Albanian-American community in New York achieve its potential. But he must be careful not to abuse the privilege and trust in which the community has placed in him. The Albanian-American community has many smart people whose opinions and advice he should heed.
In conclusion, every activity that improves the Albanian national standing in the world and makes all of us proud is to be commended, but we must prioritize our efforts. As a nation that was practically devastated, we have a long way to go in order to undo some of the injustice done after the collapse of the Ottoman Empire, by integrating more than half of Albanian territories to neighboring countries, hence, enriching them and leaving Albania as a small and impoverished country. Moreover, the neighboring countries amalgamated our cultural and heritage identity and history into their own, thus, further impoverishing our identity. Albanians need to rediscover themselves and write their own history, which was in the past written by others and greatly distorted to fit others' narratives and interests. As the old saying goes, "If you don't know where you've come from, you don't know where you're going." Every Albanian should have respect for the past, be a person of the moment, and go forward with confidence and self-respect. Unfortunately, that confidence still seems to be lacking, reflected in their reverence for outsiders—bowing to them as if they were still under occupation. This self-confidence can be regained only through education, creativity, and by making a positive impact in the international community. Albanians are naturally a brave but peace-loving people, smart and capable of achieving any goal they set for themselves—clearly demonstrated by the great successes of many of those who left the country and now reside around the world. The problem is that the country of Albania has not achieved the economic or political development necessary to provide opportunities for every Albanian to reach his or her potential and to protect the rights of its kin. To help in this regard, there is a great need for academic research focused on better understanding Albania's past, how to manage its present, and how to build it a better future. This type of research—which encompasses systematic collection, interpretation, and evaluation of data in a planned manner—can be done best through higher education and programs offered at top research universities in the United States, Europe, and elsewhere. Albanian diaspora can become a conduit for those interested in scientific research programs in the United States, as well as to establish various thinktanks domestically and internationally to generate policy-oriented research, analysis, and advice on global engagement. These steps would enable policymakers and the public to make informed decisions about these issues. This is why a multipronged and concentrated effort is required to help Albania make a paradigm shift from the past into the future—a process in which the diaspora can play a pivotal role. While we love our epic songs that tell of our past, we cannot build our future listening to music and boasting who we are. To quote President John F. Kennedy, "Ask not what your country can do for you; ask what you can do for your country."
---
[1] "Fun Maps: All 1,678 Honorific Street Names in the Five Boroughs of NYC." Untapped New York. Retrieved from: https://untappedcities.com/2016/01/05/fun-maps-all-1672-honorific-street-names-in-the-five-boroughs-of-nyc/.
[2] "NYC Street Signs." CUNY Graduate School of Journalism. Retrieved from: https://nycstreetsigns.journalism.cuny.edu/.
[3] "NYC Street Signs: Do-gooders get their day too." CUNY Graduate School of Journalism. Retrieved from: https://nycstreetsigns.journalism.cuny.edu/2014/05/07/honorific_streets/.
[4] "Street Co-Naming: General Guidelines." NYC.gov. Retrieved from: https://www.nyc.gov/html/mancb12/downloads/pdf/street%20co-naming%20guidelines.pdf.