Dear Friends and Community,
I've mentioned to many of you a very resilient family that I've been working with for almost a decade who, tragically, lost three sons to execution-style murders by the Serbian government in 1999. Others of you in the community may know the family of Ylli, Agron and Mehmet Bytyqi – the Bytyqi Brothers – personally or through your shared experiences at the end of the Kosovo War.
Their murders are not yet resolved, but we absolutely know who is primarily responsible. Their names are Goran "Guri" Radosavljevic and Vlastimir Dordevic, each a former high-ranking official within the Serbian government.
We need your help to launch an innovative legal and advocacy campaign to finally bring Radosavljevic and Dordevic to justice. The organisation with which I volunteer – Pretrial Rights International ("PRI") – is a registered 501(c)(3) charity and has been working with the Bytyqi family on a strictly volunteer basis. We need the funds to cover the legal fees to implement this strategy.
All donations are 100% tax-deductible charitable contributions. Please consider donating what you can through our GoFundMe.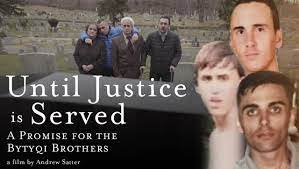 (there is a great video in the GoFundMe where you can learn more about the Bytyqi family's 24 year struggle for justice).
* * * * *
What We've Done
Through our analysis and advocacy, we've helped obtain the following:
…and much more. But Serbian President Aleksandar Vucic and his government continue to protect Guri Radosavljevic, Vlastimir Dordevic and others responsible for the Bytyqi murders.
* * * * *
What We'll Do
Your money will be used to implement a new and innovative legal and advocacy strategy – one that has never been tried in any case from the region. We've already hired a law firm to implement this strategy, which encompasses the costs that we are seeking to cover.
With your help, we can finally ensure justice for the Bytyqi family. The war criminals responsible for these murders are responsible for hundreds more. They were also primarily responsible for the cover-up operations at the end of the war and therefore have information on the fates of over 1,000 persons that are still missing. Justice for the Bytyqi family can lead to justice for many, many more!
Your donation will be fully tax-deductible as a charitable contribution.
Thank you!
Praveen